Welcome back to our Royals Inspired series. The Sussexes are our inspiration but not associated with the content. We just like living vicariously through them!

Friday we got a sneak peek inside Prince Harry and Meghan Markle's $14,650,000 Montecito mansion! The Duchess of Sussex participated in The 19th* Represents 2020 Virtual Summit and appeared to be broadcasting from her brand new celebrity compound. The 18,000-square-foot home sits on five acres. It has nine bedrooms and 16 bathrooms. Their new estate features a two-bedroom guest house, rose gardens, a tennis court, a tea house, children's cottage and a pool. They purchased the home (apparently at a steal) from Russian businessman, Sergey Grishin.

We played around on TOV Furniture and found five items that we could imagine inside The Sussex's new Montecito mansion!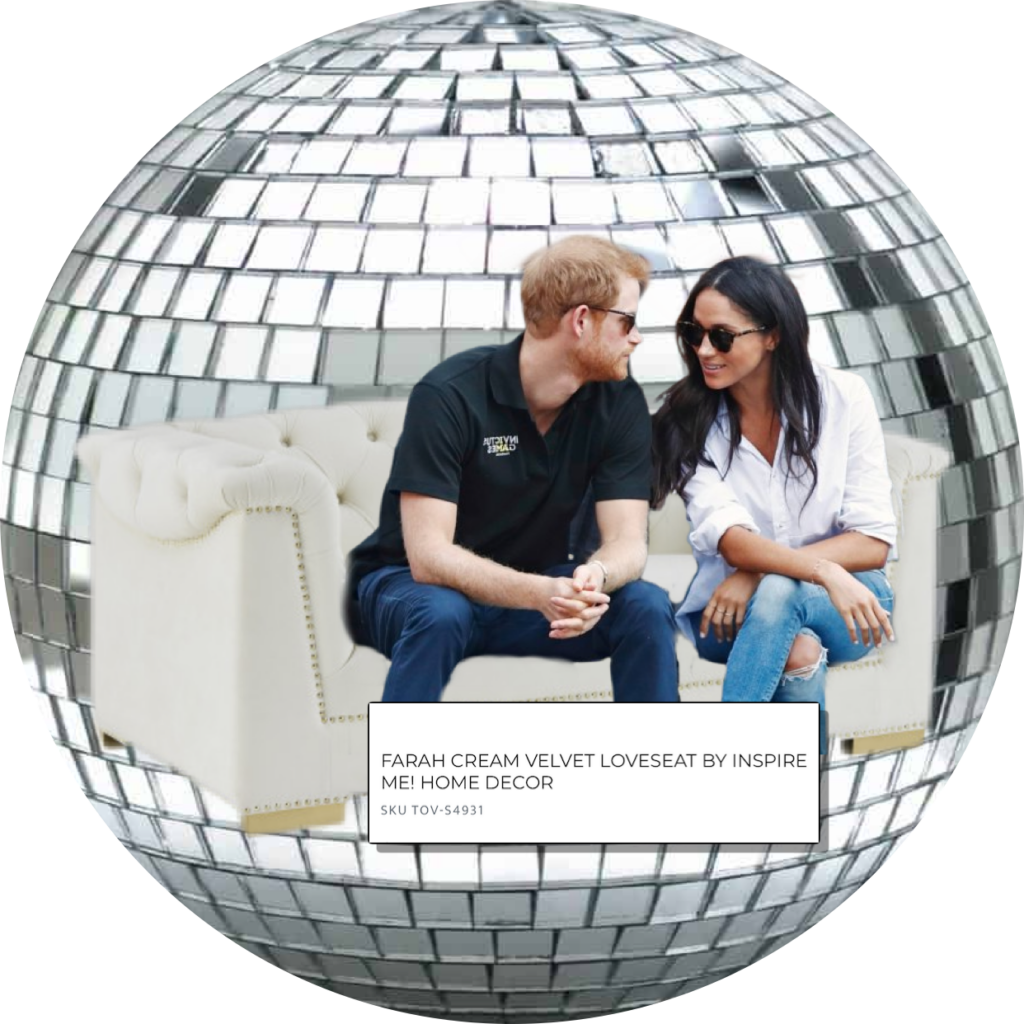 Inspire Me Home Decor and TOV's Farah loveseat looks like a cuddle couch fit for a… guy sixth in line to be King. According to the website description, it's a "fresh and modern spin to a classic style." And the perfect size to Netflix and nap.

Does a nine bedroom house lack storage space? Probably not, but the Teddy Faux Sheepskin Ottoman is chic and convenient and the perfect addition to one of their 16… I repeat… 16 bathrooms. Plus, you can hide goodies inside!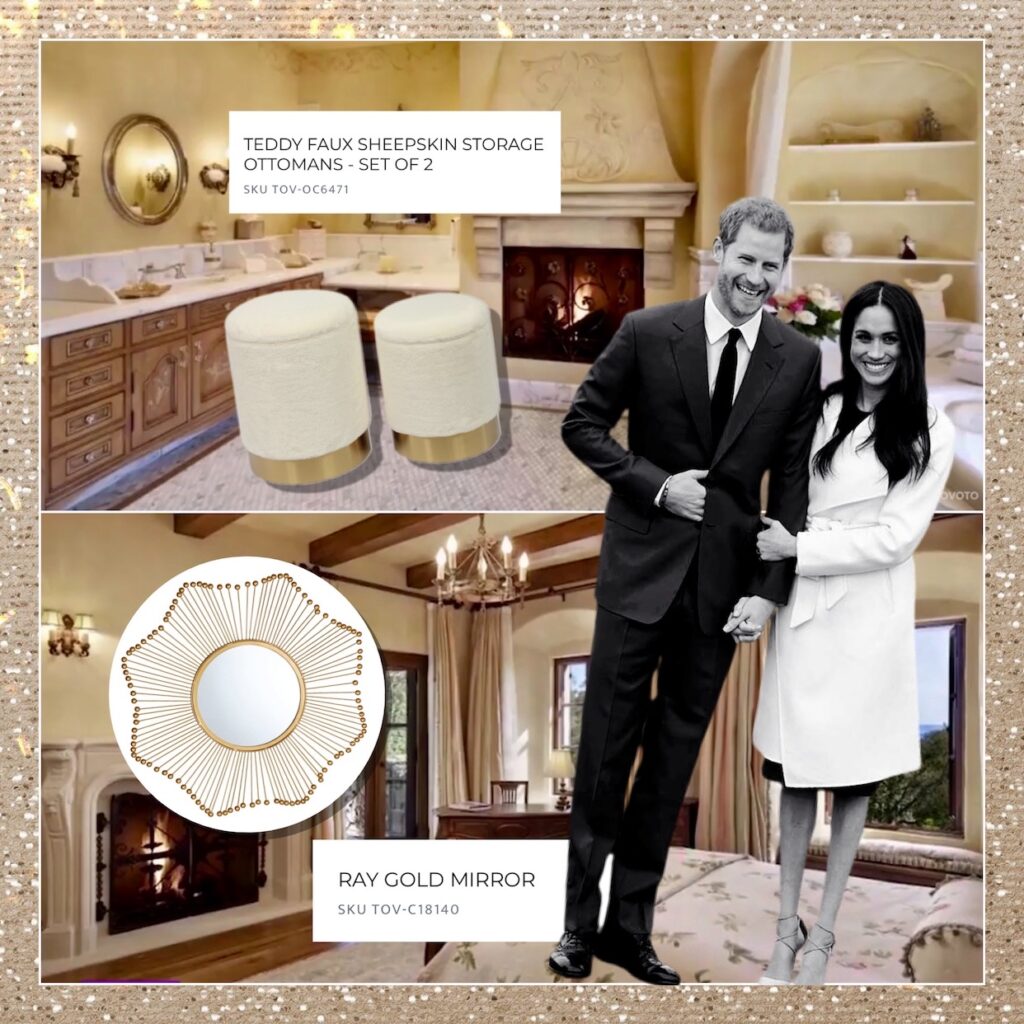 Mirror, mirror on the wall! The Ray Gold Mirror would look perfect above the primary bedroom's fireplace! This light-bright piece reminds us of a British royal tiara. Feel like a queen every day when you catch your reflection in the mirror.

The Duchess of Sussex loves to cook and their new patio will prove to be the perfect space for entertaining. "Elegant enough for entertaining, yet practical enough for everyday use," describes TOV's Stainless Steel Rose Gold Flatware Set. We think it's classic and minimal and matches Markle's effortless style.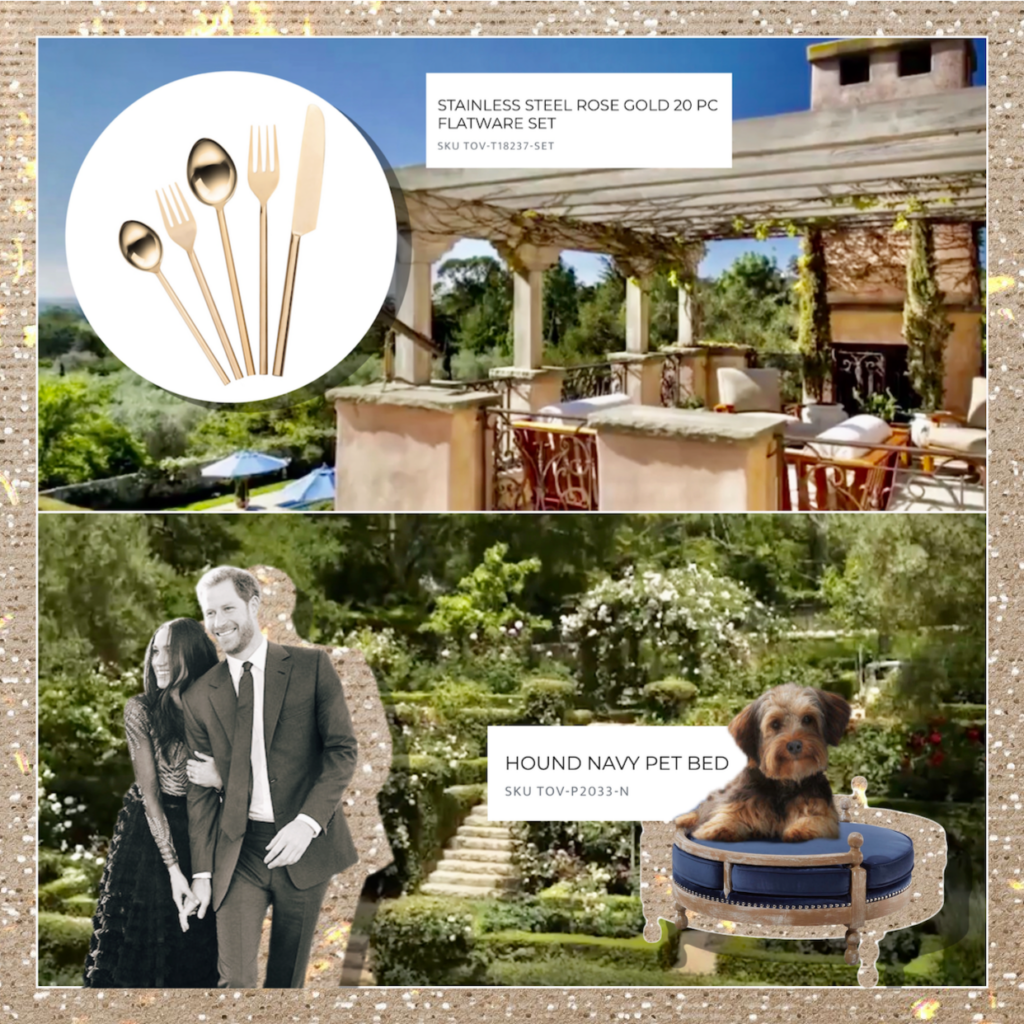 Prince Harry and Meghan love animals, especially dogs. Five acres will give them plenty of room for fetch but it's the Hound Navy Bed that will take their dogs from rescues to royals. It features a solid weathered oak frame and a removable cushion cover that is made from washable and waterproof velvet.

Did you see any pieces that you love? Tweet me!

Kinsey Schofield is the Editor-in-Chief of To Di For Daily and you can follow her on Twitter, Instagram, or Facebook.