Kinsey Schofield (Pronounced Kin-Z SCO-field) is a Los Angeles-based royal commentator, host of the To Di For Daily podcast, co-host of the MAJESTEA with Cristo Foufas and Kinsey Schofield podcast, and the author of R is for Revenge Dress. Kinsey has loved the royal family ever since she was a child. She began reporting on the royals in 2017 and covered the Platinum Jubilee of Queen Elizabeth II and the funeral of Queen Elizabeth live from London. ToDiForDaily.com is a pop-culture take on the British Royal Family and a celebration of the life of Princess Diana. The Princess of Wales was the ultimate "it girl." Her pretty face matched her pretty heart and our goal is to live every day with our hearts on display like Princess Di.
"The Queen of podcasts." – Andrew Morton, Diana: Her True Story
"Princess Pundit" – Phoenix Magazine
"Sassy royal commentator!" – Rita Panahi, Sky News
---
Media Resources and Downloads
◦ For media requests contact Kinsey Schofield at the email address above.
◦ Kinsey Schofield's Twitter, Instagram, and YouTube pages.
◦ High-resolution photo of Kinsey Schofield. Download here. Photo by Brett Silva.
◦ High-resolution photo of Kinsey Schofield's To Di For Daily podcast cover. Download here. Photo by famed pop artist, Analy Diego.
---

kinseyschofield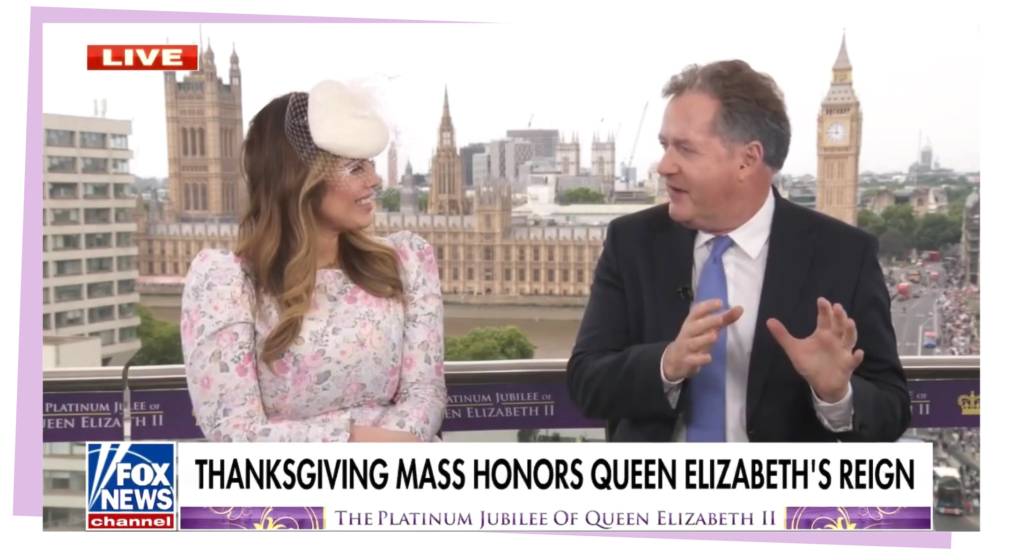 About Kinsey Schofield
Kinsey Schofield kicked off her television career on E! Channel's Party Monsters Cabo. The competition-based show also starred P. Diddy, Lil Jon, Missy Elliott, 50 Cent, Nick Cannon, Carmen Electra, and The Jenner / Kardashian family.

She parlayed her reality TV experience into TV commentating and presenting, appearing on Access Hollywood, BBC World News, Piers Morgan Uncensored, Nancy Grace, Dr. Drew, FOX & Friends, Your World with Neil Cavuto, FOX's Happening Now, The Young Turks, and numerous E! Channel comedy specials including Celebrity Oops They Did It Again, Bigger Badder Celebrity Feuds, Attack of the Celebrity Bikinis, and Worst Thing I Ever Posted.
Kinsey currently appears weekly in the UK on Breakfast with Eamonn and Isabel, Mark Dolan Tonight, Kevin O'Sullivan, and Cristo Foufas. You can see her regularly on Australia's number one breakfast show, Sunrise, TalkTV's Jeremy Kyle Live, Canada's CTV, and Sky News Australia's The Royal Report and The Rita Panahi Show (Where Rita and Kinsey regularly get over one million YouTube views!)
She has been featured on the covers of So Scottsdale Magazine, Arizona Foothills Magazine, and Entrepreneur Magazine. Phoenix Magazine featured Kinsey in a 2023 issue with the headline, "PRINCESS PUNDIT."
Inspired by Princess Diana's eagerness to love and give, Schofield makes charity work a priority. She has been a committee member for Make-A-Wish Arizona, helping raise over $2.2 million to help fund 320 wishes in 2017. As social media chair for Phoenix Art Museum's Andy Warhol pARTy, She helped raise over $1 million for the museum, $1.1 million during the 18th annual Fashion Gala for Fresh Start Women's Foundation, and helped raise $5K for first responders with WomenInPR.org during the pandemic. Kinsey has emceed events to benefit Ochsner Hospital for Children in New Orleans and Arizona's Phoenix Children's Hospital. In New Orleans, she raised money for Special Olympics Louisiana by repelling down a skyscraper. Additionally, she has volunteered her time to Defenders of Wildlife, Muhammad Ali's Celebrity Fight Night, and the Friars Club ESPN Sports Roast of Terry Bradshaw.
Stream Kinsey Schofield in FOX Nation's exclusive 3-part series, Diana: Killing of a Princess right now.
---
Documentaries/Specials
---
Podcasts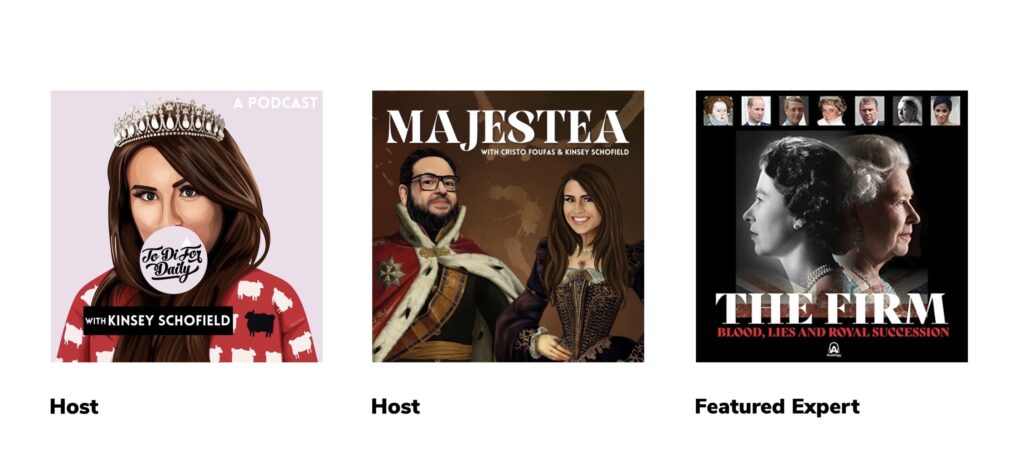 ---
Books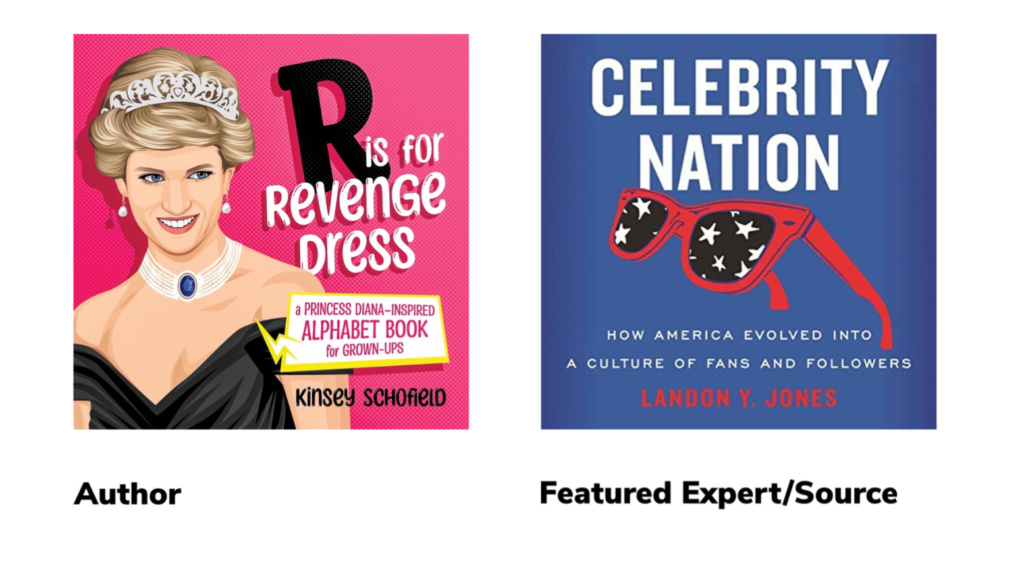 ---
Royal Commentator