Happy Halloween! Are you still stressing about what to dress up as this season? How about a Princess? But not one of those tacky costumes you can't bend over in! We're classier than that. Would you rather be a Queen? What about The Queen of Hearts? While none of my Halloween costume options are as absolutely stellar as AnnaSophia Robb dressed as Princess Diana in The Carrie Diaries, I did manage to organize some insanely affordable options. Here are 5 Princess Diana Halloween costumes under $50.
One of Princess Diana's most iconic looks was her pink gingham set. Photographed on the steps of Highgrove in 1986, we catch Diana flirt with the camera and play with a snuggly (and camo-clad) Prince Harry. Between her glowing presence and her pink gingham pants with matching sweater, these cheerful photos would define the princess for the rest of her life and beyond. I recreated a similar look at boohoo. I started with a Knitted Frill Cuff And Neck Sweater in BLUSH for only $18! (Search: PZZ60671) The frilled neck is very 80s Di! Obviously, you top off the look with the cutest BABY PINK Gingham Skinny Pants, on sale for only $14! (Search: FZZ22921) At $32, the look falls well under our $50 budget but if you do spot a few additional items to toss in the cart and find yourself at $50 or more, your items ship for free.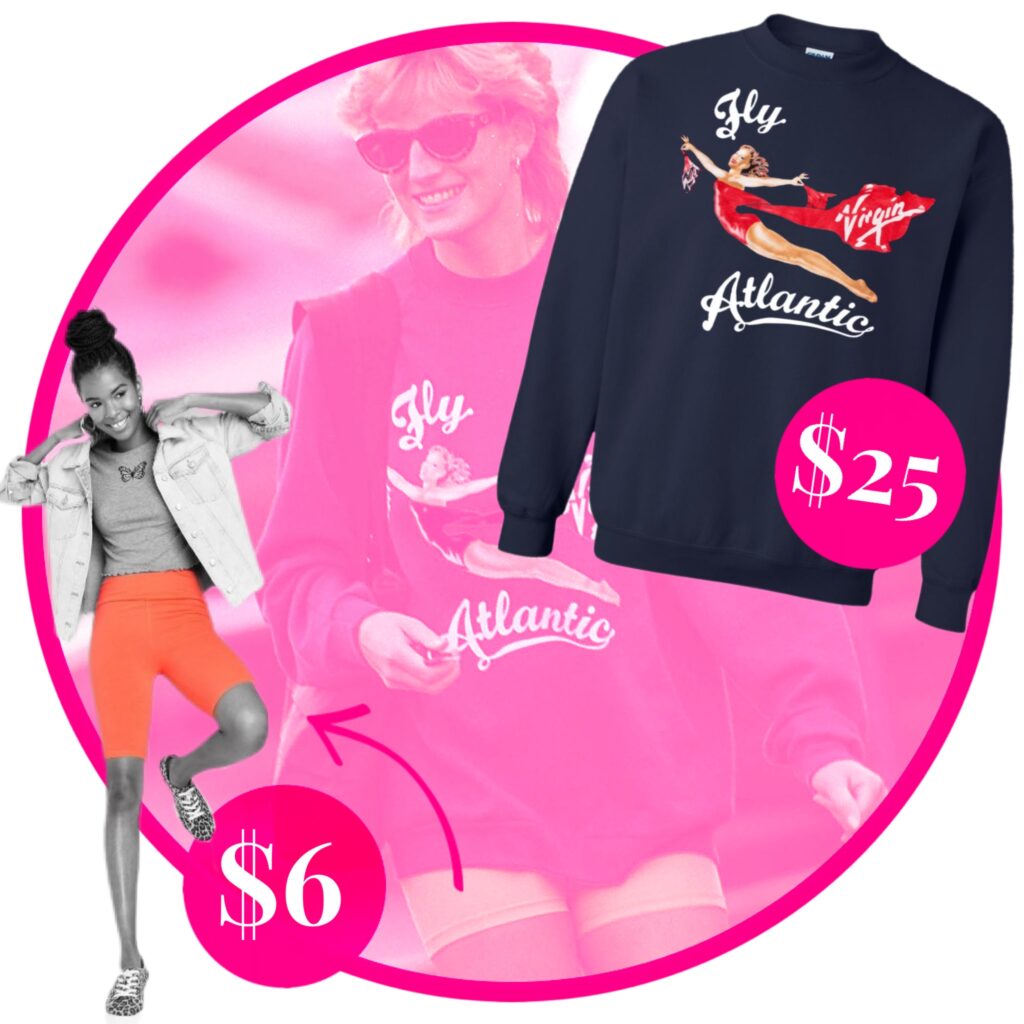 The Kardashians copied the look. Hailey Bieber too. If you don't immediately associate Princess Diana with a tiara on her head, you likely associate her with her ultimate street style. Bike shorts and an oversized sweatshirt.
One of Diana's most photographed looks was a sweatshirt she received from Virgin Atlantic founder Richard Branson. Later, when cleaning out her closet, she lovingly handed the sweatshirt over to her personal trainer, Jenni Rivett.
Jenni once told Yahoo, "Every single session all the media were outside camped with their stepladders, and cameras and lenses and everything," explained Rivett. "For her, she just found it so incredibly, 'Why are they so interested in me when there are more important things to worry about in the world.' It wasn't her that asked for all this. I remember one of her strategies was that she was going to wear the same Virgin Active sweatshirt every single session."
While Diana's ultimate objective was to foil the paparazzi's plans, she unintentionally created one of the world's most imitated fashion statements.
Jenni recently auctioned off the OG sweatshirt to "help a Malawian family based in South Africa." The top went to a "collector in California who wishes to remain anonymous" for $53,532. (In my greatest Shaggy voice, "It wasn't me.")
Reproductions of the Virgin Atlantic sweatshirt can be found on Etsy for just $24.40. There are numerous other dupes available on Etsy around the same price range. (Search: Virgin Atlantic sweatshirt.) Here's the real steal though, Target currently has these orange bike shorts on clearance for just $5.95. Get this look for only $31!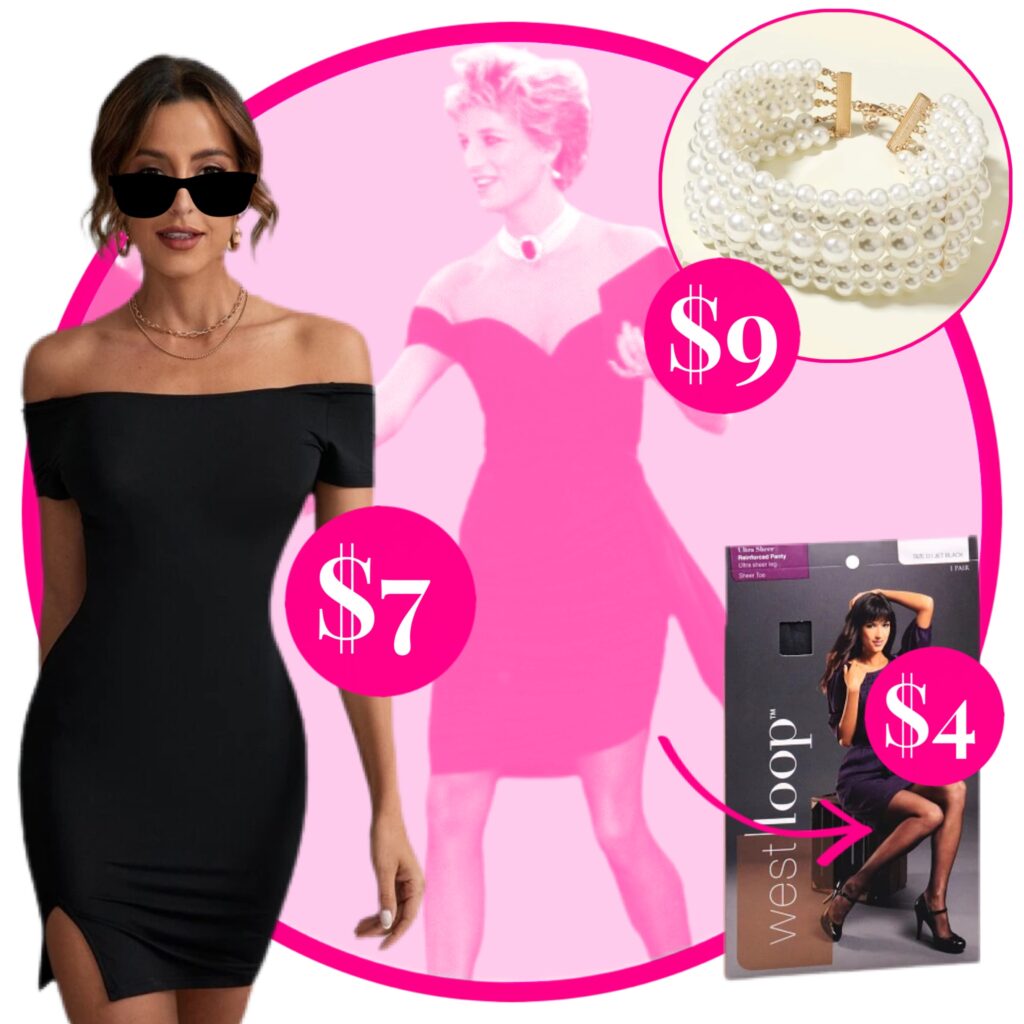 Would this really be a list of Princess Diana costumes without a REVENGE DRESS? Diana wore the famous revenge dress in June of 1994 on the same night that Prince Charles was going on national television to admit to his affair with Camilla Parker Bowles. Diana felt humiliated and insecure but decided to dress up and venture out anyway. Less than 12 hours after Prince Charles' interview aired and the papers were printed… no one was talking about Charles and Camilla. EVERYONE was talking about Diana… and the dress. I primarily built this look on SHEIN. Start with a Solid Off Shoulder Notched Hem Bodycon Dress in BLACK. (Search: sW210618268800820) This dress is only $7! The reviews are positive but the fabric is described as thin. There is also a more expensive option where the neckline caves in for $38. (Search: swdress42200814732 or Lucra Off Shoulder Bandage Bodycon Dress) SHEIN has a huge catalog of pearl chokers so take your pick! While the necklace pictured is only $9, there are some as inexpensive as $2! (Search: swset18201014347 or 1pc Faux Pearl Beaded Necklace & 1pair Earrings) Use code "ladykinsey" at checkout for an additional 15% off of your SHEIN purchase. Don't forget a pair of black pantyhose. I found some at Walgreens for just $3.99. Our entire revenge dress look is $20!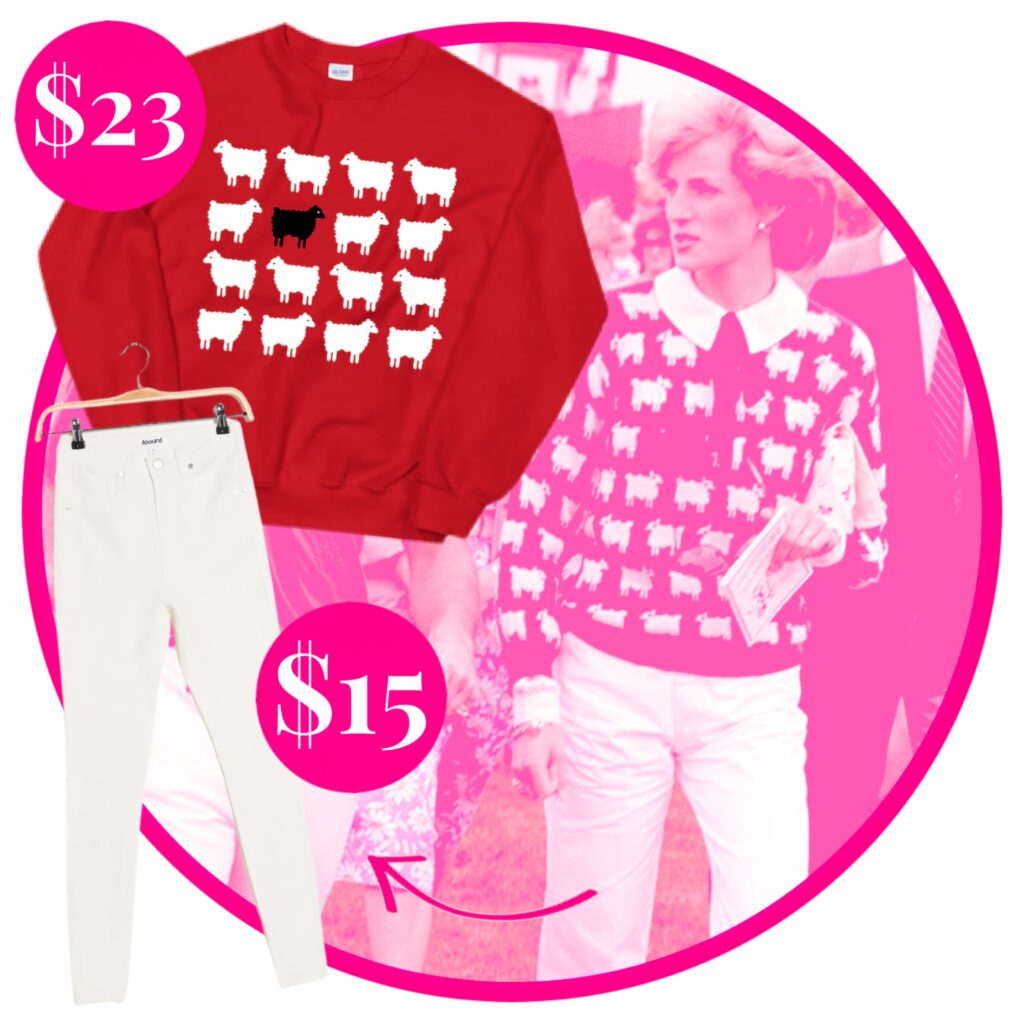 You know I'm a sucker for a sheep sweater!
Princess Diana's style was dissected and discussed almost as much as her love life. Needless to say, Diana knew exactly what she was doing when she joined Prince Charles and BFF Sarah Ferguson at a polo match in June of 1983. Her red knit "black sheep sweater" still has people talking almost 40 years later. Diana was quietly telling the world that she felt like an outsider.
Warm and Wonderful has a brand new selection of colorful sheep sweaters but to stay within our $50 budget, I have a dupe just for you. Under the username udesignplus, Etsy offers a black sheep sweatshirt for only $22.79… plus free shipping! (Search: Princess Diana Sweater, Sheep sweater.) I know I've featured several fast fashion items but I did search sustainable. I managed to find a $14.98 pair of jeans from Nordstrom Rack (Search: Sustainable Denim High Rise Skinny Jeans) from ABOUND. This look is $38 and still under budget!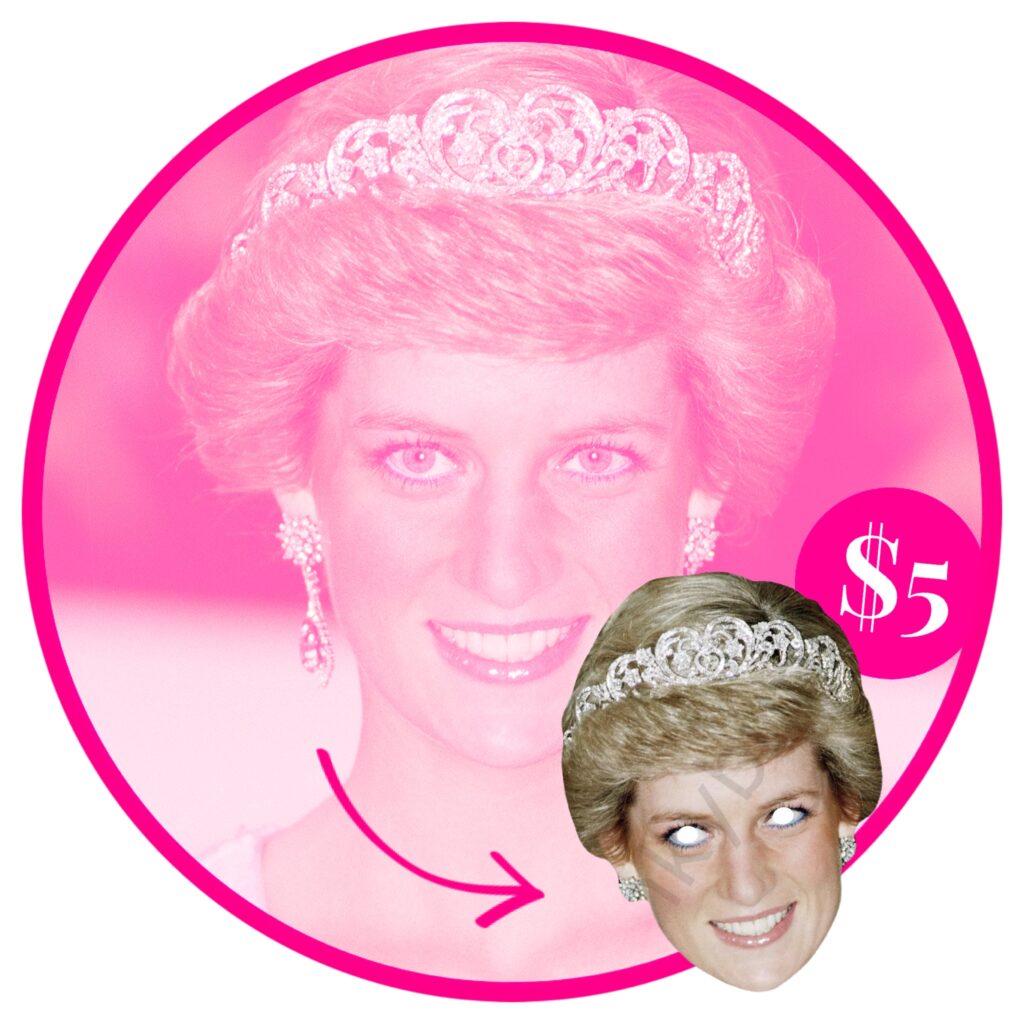 I saved our least imaginative option for last. So, it's actually last because it is least. The good news? It's also the cheapest! So the least expensive too! The Princess Diana paper mask. You know the drill… pair your mask with any oversized sweatshirt in your closet and your bike shorts. Looking to make more of an effort? Squeeze into an old prom or bridesmaid dress in the back of your closet then throw on your Di mask and you're the coolest girl on the block. The mask is only $4.29 which is well within our budget! Search Etsy for user/store FunkybunkyMasks (or Princess diana royal celebrity card face mask – all our masks are pre-cut!) They also have Dolly Parton if you've got a thing for blondes!
Will you go as Princess Diana for Halloween this year? Tweet me your photos and save me a Snickers bar!
Kinsey Schofield is the Founder of To Di For Daily and you can follow her on Twitter, Instagram, or Facebook.