Kensington Palace opened back up this week after temporary closure due to COVID-19.

To celebrate the re-opening and in hopes of generating more foot traffic, the palace has prematurely brought in Princess Diana's 'Travolta' dress for display. This is the first time the Victor Edelstein-designed dress has been available for the public to see since being acquired at auction in 2019. However, this is not the first time the dress has been on display at Kensington Palace. It had a temporary home there for 10 years as a part of the "Royal Ceremonial Dress Collection."

Princess Diana wore the now iconic gown when she danced with John Travolta at the White House on November 9th, 1985. (You know, the infamous Di dinner where Nancy Reagan kept cutting the Bushes from the guest list!)

Travolta has said that the event was "one of the highlights of my life." He remembers the gown vividly, "It fit her beautifully… I could probably sketch it in my mind because it was so specific." He told Yahoo.

This is said to be one of Princess Diana's very favorite dresses. Royal curator Eleri Lynn tells People Magazine that she rocked it regularly! The Daily Mail says that she was seen wearing it on a visit to Austria in 1986. In 1988 she wore it to the London premiere of Wall Street, she wore it to a banquet in former West Germany (before the Berlin Wall came down in 1989.) She was photographed wearing it for a portrait in the early '90s and another portrait sitting in '97 for Lord Snowdon.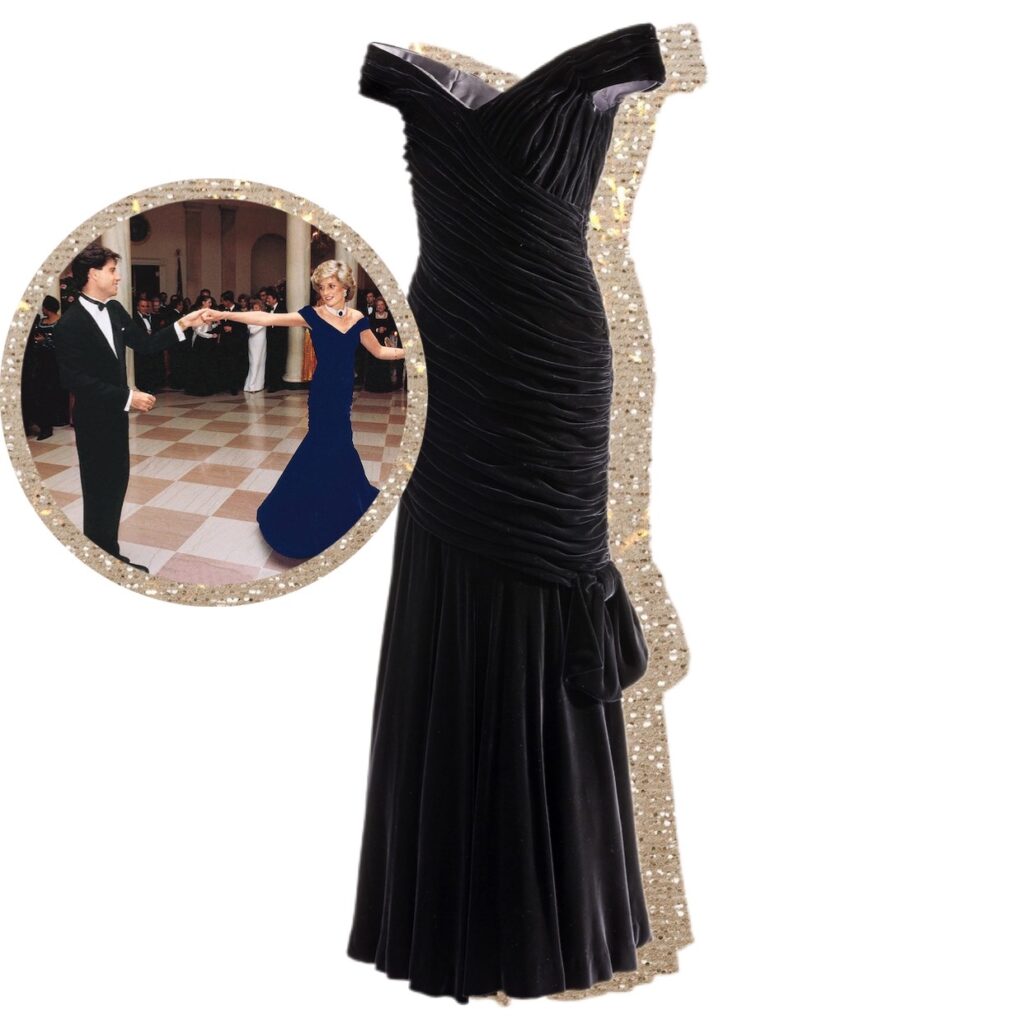 Lynn explains, "The dress marks a turning point in her fashion story, where the incredible New Romantic frills and ruffles gave way to a timeless classic silhouette. And the number of times she wore it is a testament to that. You could wear it today and still be the best-dressed person."

Princess Diana auctioned off this dress via Christie's in June of 1997 to raise money for Aids charities. A Florida-based businesswoman named Maureen Dunkel purchased 13 of Diana's dresses, just two months before Princess Diana's death. According to Daily Mail, Dunkel kept the dreamy dress until she went bankrupt.
The gown was eventually sold in March of 2013 for £240,000 to a British man who bought it as a gift, "to cheer up his wife." In 2019, the couple decided that it was time that they share the dress with the rest of the world. Since being acquired by Historic Royal Palaces, the dress has been kept in a freezer in ensure it's safety.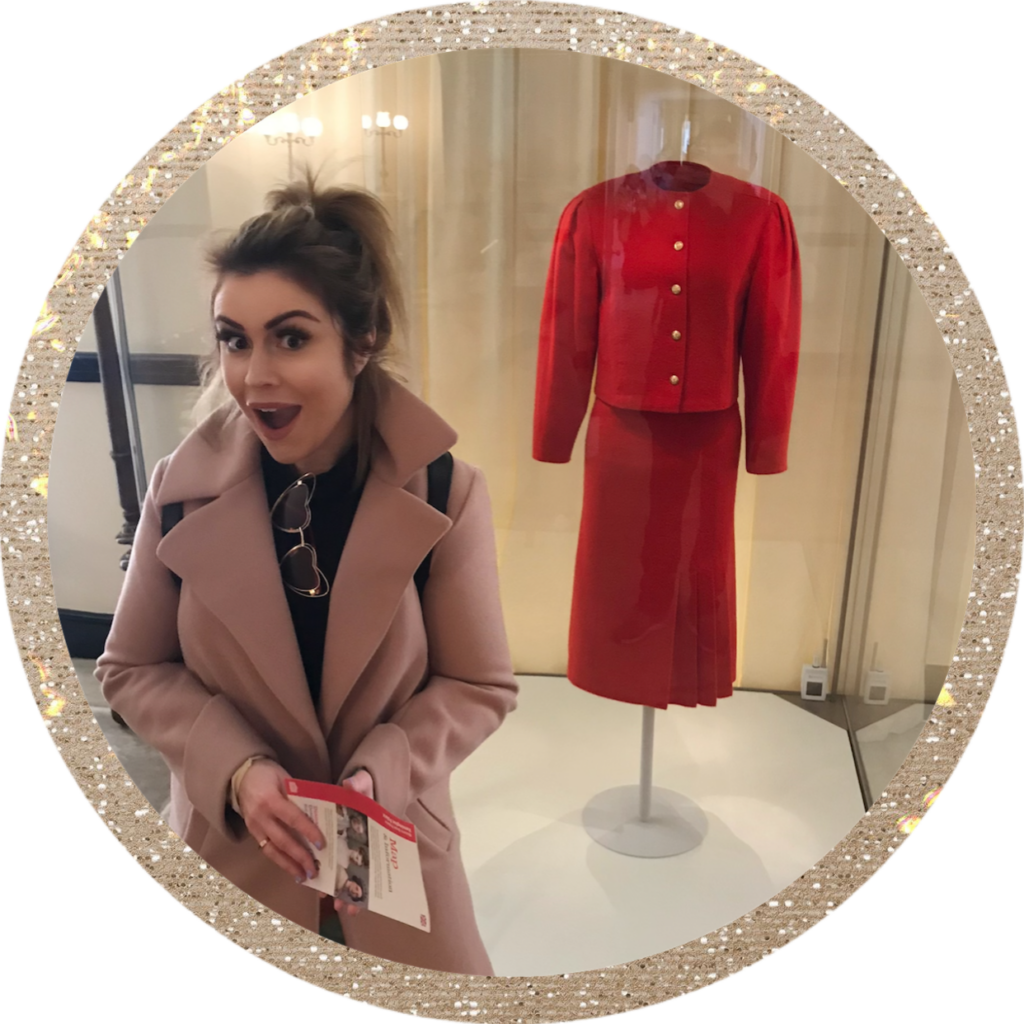 Now on display at Kensington Palace, the slinky blue velvet gown can be seen at the very beginning of your tour. You walk beyond the entrance and into a large area full of family portraits. Previously displayed was a lesser-known piece of Diana's wardrobe. A red skirt and jacket by Jasper Conran, worn by Diana in 1984 and 1985.

Once you enter the large waiting room, if you take a left, there is a hallway with beautiful Princess Diana watercolor wallpaper. If you take a right, there is a brief history of Prince Diana fashion framed along the wall.

Eleri Lynn told People, "Diana is still considered very relevant, particularly her influence on the younger generation of the royal family and their humanitarian activities," Lynn continued. "Clothing is not a trivial matter but tells us of the values of the times and the people. So much of the image-making is about what they wear and conveying their messages and their values through their clothes."

Historic Royal Palaces is stressing that they are "facing serious financial challenges as a result of the pandemic" and are encouraging people to come back and visit the palaces with smaller crowds. Get your tickets now.

Kinsey Schofield is the Editor-in-Chief of To Di For Daily and you can follow her on Twitter, Instagram, or Facebook.