Princess Diana's style was dissected and discussed almost as much as her love life. Needless to say, Diana knew exactly what she was doing when she joined her husband Prince Charles and sister-in-law Sarah Ferguson at a polo match in June of 1983. Her red knit "black sheep sweater" still has people talking almost 40 years later. Diana was quietly telling the world that she felt like an outcast.
In 2020 Rowing Blazers announced their Princess Diana collection although the product required pre-order and would not be available until February of 2021. To thank customers for their patience they sent them these Diana-themed cookies.
The Rowing Blazers Princess Diana collection requires a bit of a wait while the product is being made. Understandable for a bomb-ass sweater. We haven't received our second stimmy check yet so we found a handful of fun alternatives available on Etsy.

Featured as a bestseller, Margaret Sillner's black sheep sweatshirt is the most expensive on Etsy at $50 plus $6 shipping. The product is handmade, described as incredibly comfortable and features the cutest sheep options available on the site. The others are… bLahhhhh… my attempt at sheep humor. Get it? Bahhh.
LousyTeesCo has five star reviews across the board for their Princess Di inspired black sheep sweatshirt. They are handmade and printed-to-order so Lou doesn't accept returns. It typically takes about a week to ship their items and this sweatshirt costs $28 plus $8 for shipping.
TrendsApparelStudio gives you a variety of colors to customize your black sheep sweater. Pink, maroon, navy, or the classic red are just a few of their options. This sweatshirt costs $26 plus $6.50 to ship. This is probably the most affordable option available.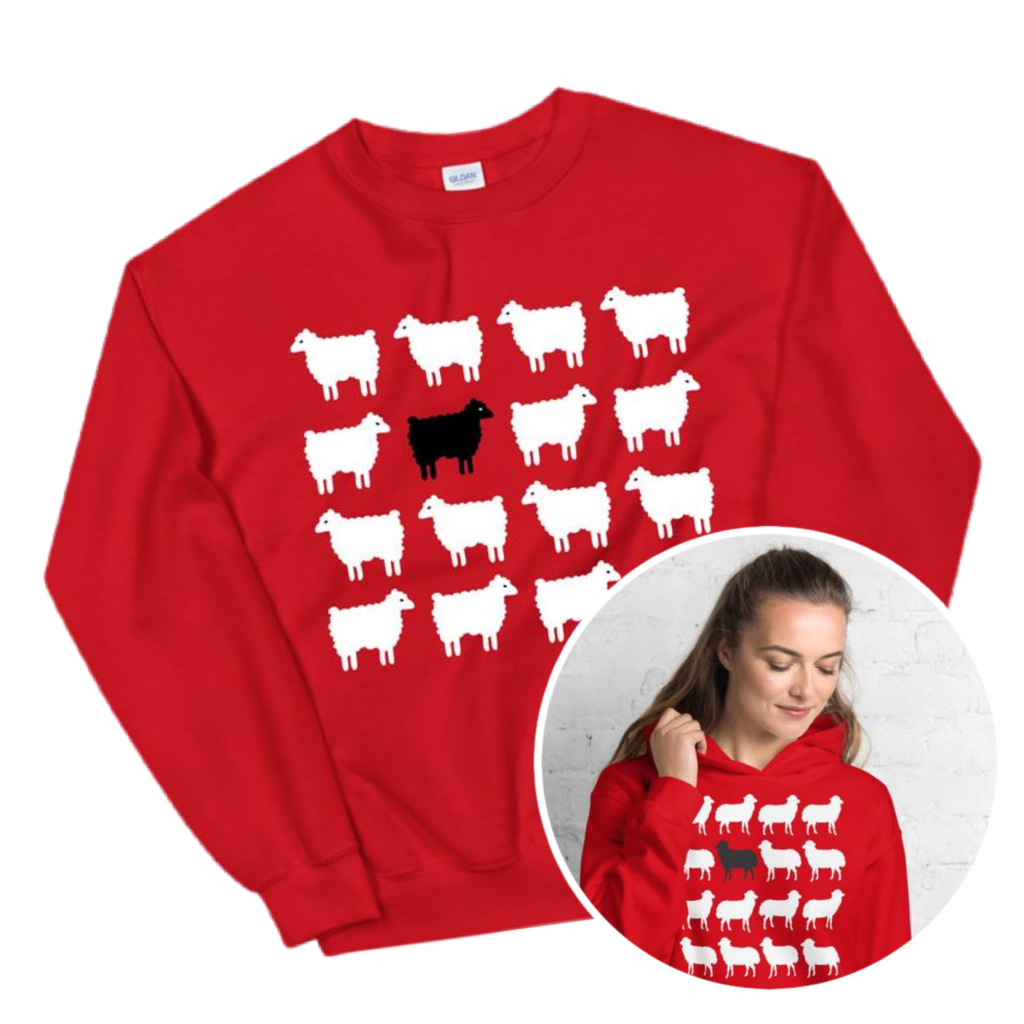 udesignplus also gives you multiple color options for the black sheep theme but offers t-shirt options and the print in sizes for babies or teenagers! Their sheep print is my second favorite… and the price reflects that at $42.08… with free shipping!
Want a hoodie? You're in luck! ShopADU offers the black sheep theme in a hoodie style sweatshirt with a double-lined hood and double-needle stitching throughout. It costs $35 plus $6.50 for shipping.
Be mindful that several of the stores warn you that printing white sheep over a red sweatshirt typically results in a pink sheep hue.
Princess Diana's iconic "I'M A LUXURY" sweater has also been reimagined on Etsy…

Available in gray, white, or pastel pink – ColorOfIris offers an "I'M A LUXURY" sweatshirt for $51.98 with free shipping. The sweatshirt also includes the back "FEW CAN AFFORD" design. While made to order, their sweatshirt can take 2-3 weeks for delivery.
ColorOfIris also carries a more retro-looking LUXURY sweatshirt. The shipping expectations are the same but the price is lower at $39.37 with free shipping. Available colors are black, gray, white, and pastel pink. This sweatshirt does not appear to have the back "FEW CAN AFFORD" design.
LousyTeesCo carries a white sweatshirt with a baby blue font that reads "I'M A LUXURY" and the "FEW CAN AFFORD" back. The style is simple and chic. The cost is $28 and $10 for shipping.
Have you spotted any Princess Diana-inspired fashion? Send it to me! I want to see it!
Kinsey Schofield is the Founder of To Di For Daily and you can follow her on Twitter, Instagram, or Facebook.