Disclaimer: @KinseySchofield has worked with some of these brands previously as an influencer, unrelated to this blog.
Roses are red, violets are blue, To Di For Daily has a Galentine's Day Gift Guide just for you! 💕
Whether you're a book worm, beauty junkie, or bubblegum bust aficionado… we've got you covered! I've collected a list of some of my favorite items to gift your BFF (or yo'self!) this V-Day.
Happy Galentine's Day QTs!
1. How fun is this victorian style bubblegum bust from Novarian Creations? I have her in blue! The Roman Venus Bubble Goddess Sculpture ($548.92) arrives in two pieces, with a plastic bubble. A small screw holds the two pieces together as one. The resin art sculpture is 15.7 inches and comes in both blue and orange. It's so Bridgerton…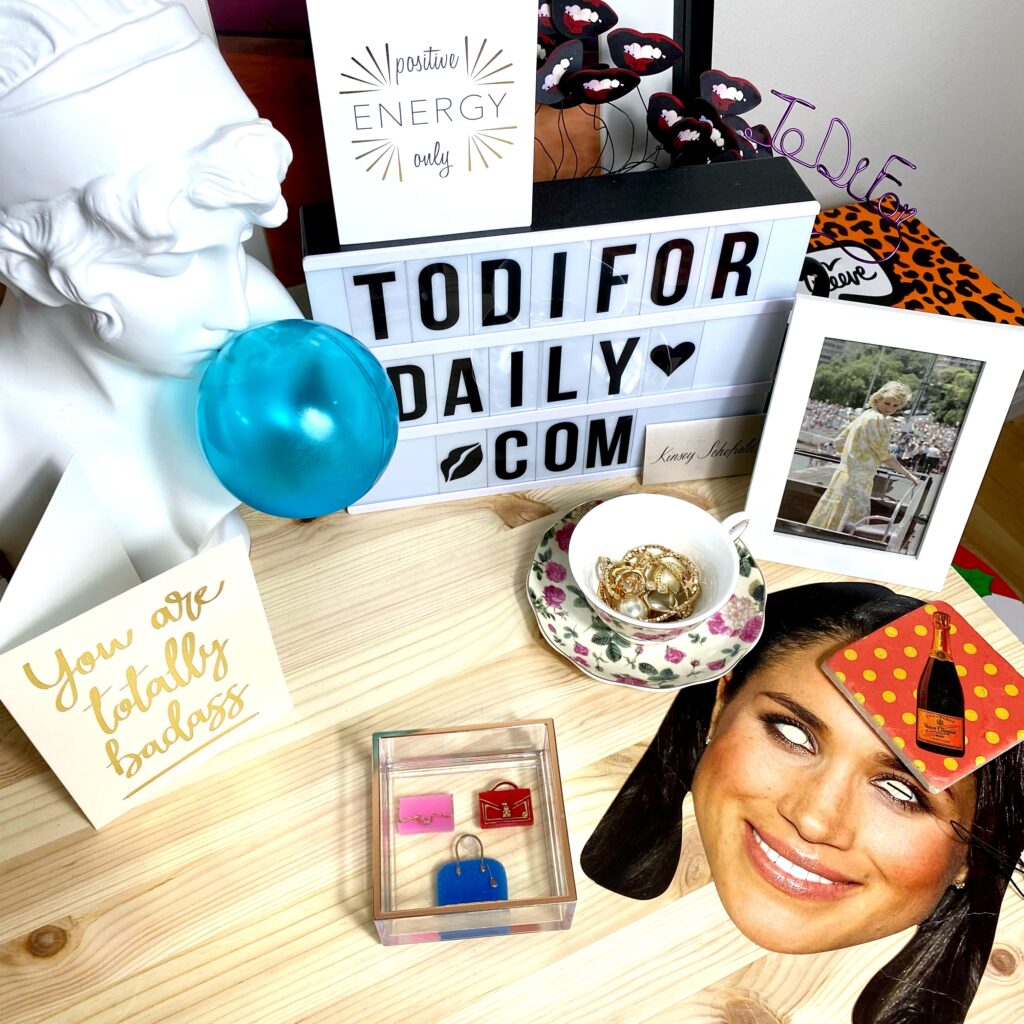 2. Listen up beauty junkies… I'm still talking about from plants Oh My Glow facial oil ($45.) The formula includes apricot kernel oil which helps to moisturize while slowing down signs of aging. It is the most heavenly scent and my face feels so fresh and clean when I apply a few drops at the end of my night time #skincare routine. I keep this product in my skin care refrigerator which takes the peppermint tingles to a whole new level!
3. Probably the most beautiful candles in the world! NEOS candles ($40) creates beautiful bust shaped candles in wild colors! They're almost too pretty to light! The candles are designed and hand poured in Costa Mesa, CA. NEOS is also female owned! The soy wax comes in multiple shapes but my favorite is David.
4. I love mixing up this Queen's coin necklace – half chunky chain – half pearl – with multiple layers. Judith March's LINK PEARL CROSS NECKLACE ($58) comes with two separate necklaces. The Queen's coin is almost choker length. The lovely pearl cross a bit longer. Sometimes I wear them together and sometimes I wear them with other necklaces but this is the most unique Queen's coin necklace that I've ever found and I simply love it. Save on Judith March with my code KINSEY20.
5. I started reading The Crown in Crisis: Countdown to the Abdication by Alexander Larman ($22.32) via hard copy but was so excited to consume it that I purchased the Audible version to speed up the process. I have always been fascinated by King Edward and Wallis Simpson's love affair and so far this is an exciting explanation of what the environment was like and what the whispers were throughout the 1930's. If you enjoy royal history… this is a great new book!
6. Breaking News: I have found a new headband source. Brianna Cannon and #TeamRLN make the cutest, most fun headbands and accessories! Headbands range from $7 – $40 on their website. They feature bold gemstones, bows, pearls and sequins. Plus, they're from Texas so they understand that the higher the hair, the closer to God. You will simply adore their entire Valentine's Day collection!
We hope you eat lots of chocolate and stop and smell the roses! Happy Galentine's Day!
XOXO, Your Secret Admirer
Kinsey Schofield is the Founder of To Di For Daily and you can follow her on Twitter, Instagram, or Facebook.