We recently spoke to royal commentator and author Victoria Arbiter about life around Kensington Palace as a teenager.
As Dickie Arbiter's daughter, the former press secretary to Queen Elizabeth II, Victoria was there to witness some of the most special moments in royal history. Additionally, she was privy to some hilarious behind-the-scenes moments! One memory was too cute not to ask about… "I read that you did go-karts with Princess Diana?! That sounds amazing!" – exclaims Kinsey.
"It was very special!" The royal commentator agrees. After sharing Princess Diana's not-so-subtle strategy to win at go-karts… it's a hoot! Victoria remembers the princess asking her for wardrobe help.
She shares, "[Princess Diana] had her overalls on and she had big, classic white 90-style trainers on… but she couldn't be bothered to take her trainers off to get her overalls off!" Victoria smiles. "So she stuck her leg in my face and said, 'Can you pull my overalls off?' So, we're standing there… she's on the floor… she's pulling one way… I'm pulling the other way and we eventually managed to muddle through!"
Victoria reiterates, "She was great fun."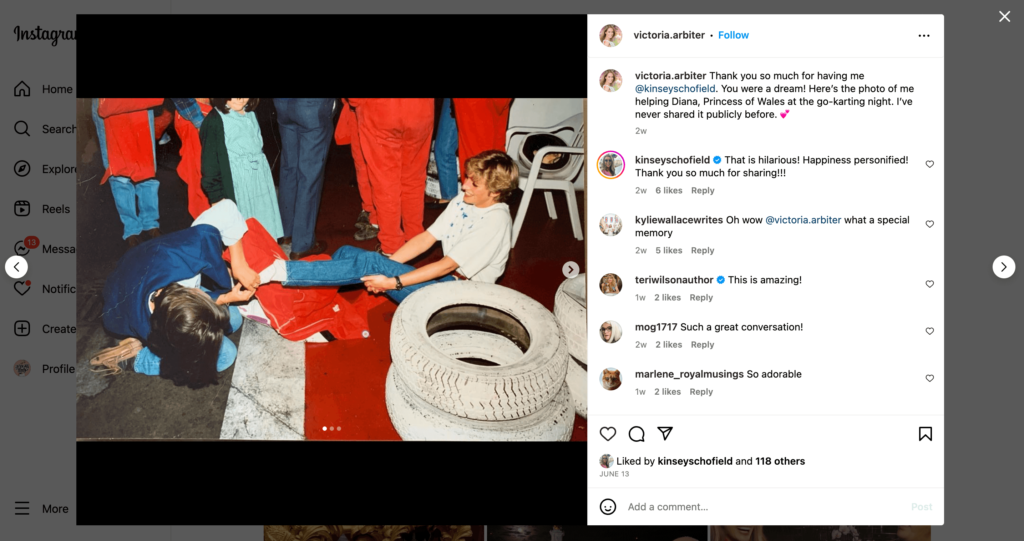 You can follow Victoria Arbiter on Instagram here.
After the release of our podcast interview, Victoria shared a rare photo of Princess Diana with her Instagram followers and captioned the picture, "Thank you so much for having me @kinseyschofield. You were a dream! Here's the photo of me helping Diana, Princess of Wales at the go-karting night. I've never shared it publicly before. 💕"
Follow Victoria Arbiter on Instagram.
Listen to our full conversation with Victoria Arbiter wherever you listen to podcasts… or stream below now!
Kinsey Schofield is the host of the To Di For Daily podcast and the creator of ToDiForDaily.com. You can follow her on Twitter and Instagram. No TikTok or Facebook for this Millennial.