Journalist Sophie Ruelo guest edits To Di For Daily and gives us the scoop on our favorite 'Crown' Princess, Emma Corrin! 💕
Unless you've been living under a rock, I'm sure you've heard of the amazing Emma Corrin. The 25-year-old actress is known for her genuine, widely-acclaimed portrayal of Diana, Princess of Wales, on Netflix's The Crown Season 4 — which has been aptly nicknamed the Diana Season by fans.
Her fantastic performance on the show earned her several award season nominations, including a Critic's Choice Award, Screen Actors' Guild Award, and a Golden Globe Award — which she won! We'll be breaking down everything that happened online… before, during, and after Emma received the excellent news.
Her look. 💎
This year's Golden Globes was held entirely online and with no red carpet. Nevertheless, Emma looked absolutely fabulous in her chosen ensemble.
Her dress is a custom Miu Miu piece — a black velvet gown embellished with crystal embroidery, which she revealed was inspired by Pierrot Clowns in an interview with British Vogue. This character finds its origins in the 17th Century culture of Paris as part of the Comédie Italienne group.
Her make-up features a single tear drawn on in eyeliner — which was inspired by a portrait of Twiggy, taken in 1966 by Barry Lategan. Fun fact: Emma and Josh O'Connor, who plays Prince Charles on The Crown, hired the same stylist for their looks, which could explain why their outfits looked quite similar, even matching.
Full credits for Emma's look. 💎
👗 Outfit by Miu Miu
💍 Jewelry by Cartier
📸 Photography by Greg Williams
👠 Styling by Harry Lambert
💄 Makeup by Florrie White
👱🏼‍♀️ Hair by Daniel Martin
Pre-show hype. 💎
Emma posted a copy of The Crown's Season 4 poster, with the words "Good luck and all my love to my Crown family tonight, wish we could be together." She also gives her castmate and partner in crime, Josh O'Connor, a special mention by reposting Loewe's picture of his look for the night.
Finding out she won the award. 💎
In classic Emma Corrin fashion, we were blessed with snapshots of Emma's genuine reaction while giving her acceptance speech for Best Television Actress in a Drama Series.
According to an article by The New York Times, her portrayal of the People's Princess from the age of 16 to 28 "dazzled viewers by capturing many of the princess's mannerisms, like those just-so head tilts, and by tackling some of Diana's biggest struggles, including her battle with an eating disorder, the disintegration of her marriage and the birth of her sons."
She mentions Josh in her speech, calling him her Prince Charming! — "Thank you to my prince charming Josh; I could not have done this without you. Thank you for making every single day by my side a complete joy."
Best of all, she thanks the Princess of Wales herself and shares how playing her on The Crown has been an honor and has changed her life in so many ways. — "And most of all, thank you so much to Diana. You have taught me compassion and empathy beyond any measure that I could ever imagine. On behalf of everyone who remembers you so fondly and passionately in our hearts, thank you."
Cheering on Josh O'Connor for his Best Actor victory. 💎
Emma wasn't the only lucky winner from The Crown family. Her co-star and dear friend, Josh O'Connor, took home the Golden Globe for Best Television Actor in a Drama Series, as Princess Diana's husband, Prince Charles.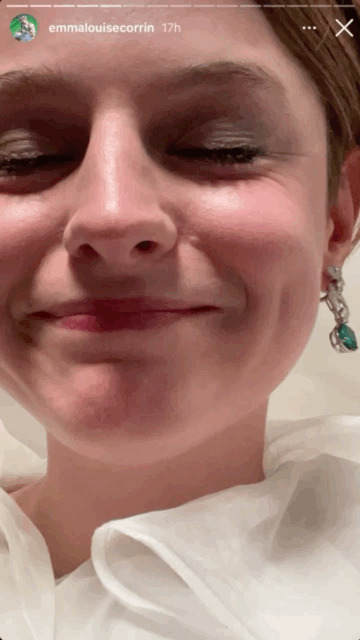 The two are known for their very close friendship. Emma is ever the stage best friend, as she posts a video of Josh's acceptance speech with the caption "LOVE YOU LEGEND !!!!!! SCREAMING."
Josh also gave her a special shout-out in his own acceptance speech: "To Emma Corrin, best actress winner: you're extraordinary, talented, funny — and brilliant player of rock paper scissors. I love you to bits."
I don't know about you, but their super cute chemistry is one of the many things I'll miss the most from this season of The Crown. My fingers and toes are crossed that they'll be able to collaborate on another project again very soon.
Post-show, as the feeling sinks in. 💎
Emma took the time to repost Greg Williams' shots of her before the show started. They showed black and white, behind-the-scenes photos of her getting her makeup done and posing in her custom-made Miu Miu dress.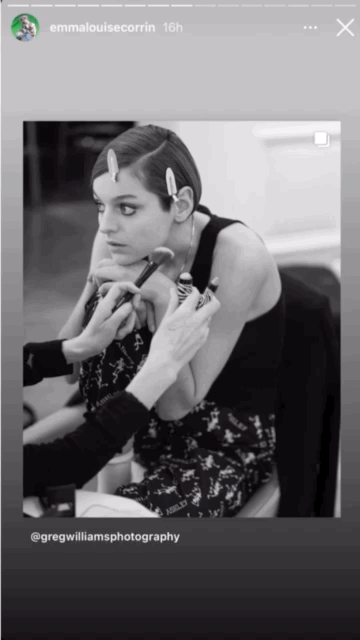 I absolutely loved the next two pictures; she used the captions processing and emerging to show how amazed and speechless she was about her first nomination and win. It shows how authentic, genuine, and humbled she is about her achievements, which is one of the many reasons I admire her both as an actress and as a person.
Her last few stories speak about the lack of diversity amongst the nominees and winners. She reposts Sterling K. Brown's statement for the HFPA, pointing out that not a single member of their association is black. Furthermore, she shares Out Magazine's post on Schitt's Creek and Dan Levy's win and how they support the show's central idea that "inclusion can bring about growth and love to a community."
Finally, she reposts Variety's portrait of Chloe Zao, who became the second woman to win Best Director at the Golden Globes, and the first woman of color to win in the category.
Extra goodies for Emma Corrin stans. 💎
Sophie Ruelo is a Guest Contributor to To Di For Daily and you can follow her on Twitter or Instagram.