It's hard to restrain from posting Prince Harry news when it's just… so good. Surprise! On Thursday night, Prince Harry appeared on The Late Late Show With James Corden for nearly 20 minutes.
Corden rented a bus from Big Bus Tours Los Angeles to show Prince Harry some of the sights around Hollywood. Harry says that it's the first time he's got out and around since moving to California due to lockdown.
Corden has been a friend to Prince Harry and Meghan Markle for several years. He was featured on their Archewell podcast premiere and famously attended their wedding. The Prince was clearly comfortable with the comedian and enjoyed his company.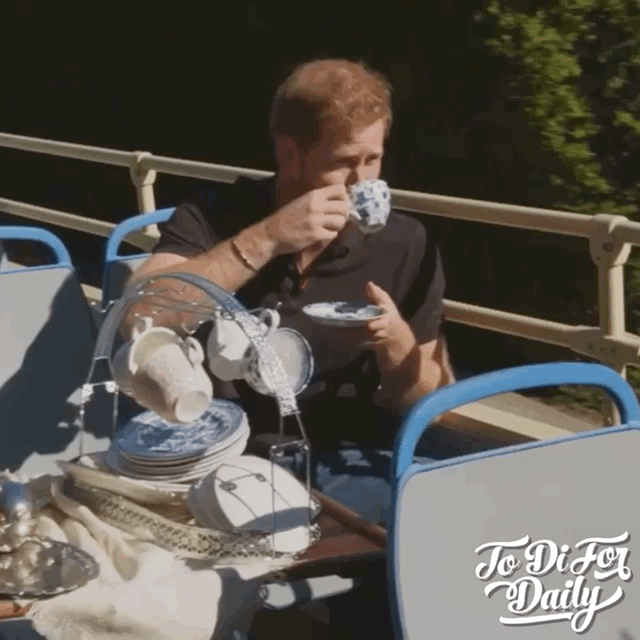 At one point the comic carts out a mini tea party that abruptly tumbles all over Prince Harry. You see the redhead spit out his tea mid-laugh and curse! It is good television. While this scene is hilarious, nothing compares to Corden stopping in front of the official Fresh Prince of Bel-Air house. Harry proceeds to rap the theme song for which I am shook… upon completing the theme song… he asks the owners of the home if he can use their bathroom.
There are some interesting takeaways during the interview portion. He told the talk show host that he left the UK for his mental health… and he didn't abandon the royal family… he "stepped back." He also says that he understands that The Crown is fiction – art – and compared to some of the hurtful headlines about him and his family disguised as news – he's fine with it. He eats a lot of waffles.
One of my favorite moments is Harry explaining how his grandfather, Prince Philip, exits Zoom calls… :::slams laptop closed.:::
Corden surprisingly FaceTimes the preggo Duchess of Sussex who refers to Harry as "Haz." It's a sweet moment.
While this is all apart of a bigger PR strategy – The Sussexes Take The USA – cue Oprah sit-down… I am all in. I thought this interview with Prince Harry was so silly and charming. I would much prefer this kind of content over some of the preachier moments we had during lockdown 2020.
The segment ended with an Army-inspired obstacle course which Harry completely – and hilariously – dominated. The whole thing was precious. Really, a perfect execution.
While some UK media is criticizing the Sussexes for the release of the interview around the same time the Queen released a video encouraging vaccination, we know that the Sussexes are no longer coordinating media with Buckingham Palace. They had no clue. Additionally, I believe that the Duke and Duchess of Sussex are really focusing all of their energy on life in America now. This was an innocent mistake – if you even consider it a mistake – which I don't.
To me, this was a home run.
Kinsey Schofield is the Founder of To Di For Daily and you can follow her on Twitter, Instagram, or Facebook.