You've heard the uproar… which likely guaranteed more eyeballs on the debut episode of BBC's two-part documentary, The Princes and the Press. Will the royal family boycott the BBC due to their refusal to give the palace a preview of the content? Probably not. If they won't boycott over something as utterly horrific as the Martin Bashir scandal, Amol Rajan is likely in the clear.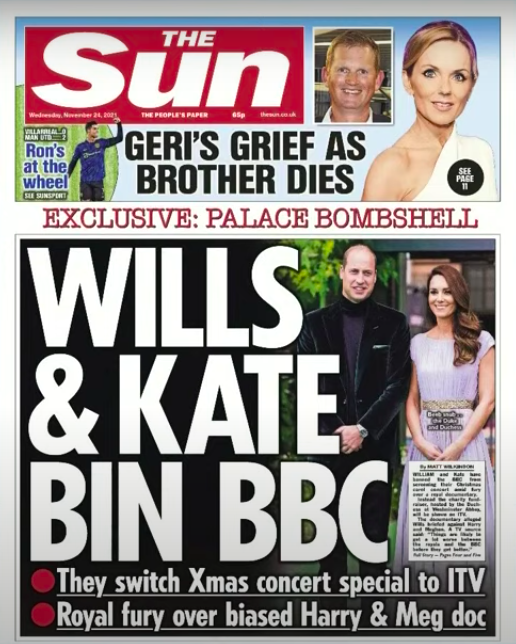 *Editors Note: Since originally publishing this article, Prince William and Catherine have moved their Christmas concert special from the BBC to ITV. Commentators suggest that it is in reaction to The Princes and the Press documentary.
With a background in PR, I really enjoyed episode one. Style-wise, Amol does this thing that I hate that ABC 20/20 does where the host goes from interviewer to expert so they keep switching seats. Dateline avoids this through narration, which I don't mind. But when the camera cuts to Amol just chillin', talking to the camera, it feels ego-driven and out of place.
Content-wise, the episode is fascinating and confirms a lot of what we already knew… but fun to see and hear some of the behind-the-scenes stories. For instance, we know "the deal." That the palace orchestrates events and photo opportunities for the media and if they give them what they want, the media is likely to be nicer and keep their distance during royal off hours. If and when the palace (or a specific character) reneges on an opportunity or doesn't follow through… the royals are punished for it until they find a way to make things better.
The first person I ever heard discuss this strategy was Ken Wharfe, Princess Diana's former protection officer. In fact, he would probably tell you that Diana and Dodi's refusal to participate in a similar strategy during their trip to Paris likely contributed to their deaths. Ken would rally with reporters when he would be on trips with Diana and offer them photos at a specific time… in exchange for the photos… the media agreed to leave Diana and the boys alone until their next scheduled photo opportunity.
A much stricter and less frequent agreement was made between the palace and the press after the death of Diana, regarding the young princes. Reporters and photographers would have access to the boys during key moments in their upbringing but otherwise were expected to leave them alone.
As a whole, I did not think that episode one was necessarily damning to anyone, however, I thought that they fixated on the William 'work-shy' storyline a bit much. According to The Princes and the Press, when the Duchess of Cambridge refused to respond to photographers in the way that they wanted her to, the press decided to humble the Duke and Duchess through negative media attention. This transitioned into the William 'work-shy' narrative. Annoying. A. He was an air ambulance pilot. B. I understood (AT THE TIME) that William wanted to contribute MORE to his family than he felt his father had contributed to his childhood. It was important to William that he nurture his relationship with his wife and children. I would suggest that that is a man that learned through his parent's mistakes. That isn't a lazy man, that's a mature man. Amol later explains that it's not about the story… it's just an example of what happens when you don't play the game.
They also show cell phone video of Prince William in a nightclub Dad dancing that I had never seen before and I can't remember the last time I laughed so hard. (But it was probably during an episode of Succession.)
Can you believe that Kate Middleton's phone was hacked 155 times?! I don't care about ANYONE enough to check their voicemail 155 times. Kate was hacked on Christmas Eve, Christmas Day, and Valentine's Day. Get a life!
I agree with the soundbite that Prince Harry sells more newspapers than Prince William. It is certainly not a competition and both men would prefer not to be on the cover of anything but a holiday card. I say that I agree with it because it is what producers tell me when they reach out to me about a story, "Harry and Meghan get us a lot of clicks!" It is ok to be vanilla and I don't necessarily think that Prince William is concerned with popularity as much as he is concerned about his credibility and reputation.
I had a great conversation with Andrew Morton on royal popularity and how it fluctuates. He said that Prince Harry knows that there is an expiration date on his and Meghan's popularity and inevitably all eyes will be on Prince George. Here's a link to that interview.
Camilla Tominey's introduction to Meghan Markle rings true. She is beautiful and fabulous but was relatively unknown by pop-culture and entertainment news junkies before Harry. I also loved that almost every single commentator described Meghan as "a breath of fresh air!" SO TRUE. Royal watchers were all so excited about her. (I own a pair of socks with her face on them.)
Robert Jobson recalling his trip with Prince Charles and their exclusive getting pushed back is slightly HILARIOUS. I can not imagine being put in that situation.
While interesting, no big bombshells in episode one of The Princes and the Press. I would almost go as far as saying that it's regurgitated stories from Robert Lacey's Battle of Brothers. However, it is interesting to watch a chronological explanation of headlines and backstory.
In response to The Princes and the Press, contrary to The Princes and the Press which stated that the different "houses" were sometimes not in sync or even in competition with each other, Buckingham Palace, Kensington Palace, and Clarence House responded that they were disappointed that the BBC gave oxygen to "overblown and unfounded claims."
PS. Of course Meghan's attorney is going to say that she is not a bully. That is what she is paid to do.
Kinsey Schofield is the Founder of To Di For Daily and you can follow her on Twitter, Instagram, or Facebook.