Welcome back to our Royals Inspired series. Princess Diana are our inspiration but her estate is not associated with the content. Disclaimer: @KinseySchofield has worked with several of these brands * previously as an influencer, unrelated to this blog.
ABOVE: Wearing Cozy Earth's Short Sleeve Stretch-Knit Bamboo Pajama Set in black. Silky soft and would 100% wear the top outside of the house with black business slacks! *
In Paul Burrell's book, A Royal Duty, he talks about how much Princess Diana prioritized self-care towards the end of her life. She jokingly referred to it as "Pampering Diana Day." She developed a love for the gym, would get an aromatherapy massage, and met with her hair stylists for a little bit of gossip and a blow out.
"Diana was very aware of her beauty regime, cleansing, toning and moisturizing twice a day," Mary Greenwell, her former makeup artist, told Stylist.
Rumors persist that part of the Princess' skin care routine involved splashing her face with water 60 times a day. I have a hard time believing that this is true.
Her diet also helped her maintain her exquisite skin. One Palace chef revealed that Princess Diana mostly ate boiled potatoes and chicken. It's also recorded that she loved fruits and vegetables. Avoiding dairy, (most) sugar, and gluten kept her skin glowing. She also rarely drank alcohol and preferred natural mineral water – with lemon!
A fan of beauty DIY, she used rose oil and avocado masks at home but when it came to brand names… she was actually fond of drug store brands like Johnson & Johnson lotion or Vaseline.
Since 2020 has given us plenty of time to explore self-care, we've put together a list of some of our favorite products that we will continue to use throughout 2021.
1. OxygenCeuticals Age Defying Caviar Cream – I've mentioned this product before and I am mentioning it again because it is simply my favorite beauty discovery of 2020. Look, I have no idea how much "younger" I look or if it has actually slowed down my skin from aging… what I do know is that it makes my skin feel so soft and I love the smell more than any other smell in this world. Whenever I crack open the case, I stop to smell the cream before I even apply it to my skin. I go to bed feeling so fresh and bright and smelling yummy. The cream is enriched with 12% caviar extract which helps even out your skin tone and apparently improves the appearance of visible signs of aging! On paper, the brand is pretty impressive as well. New to the states, OxygenCeuticals is the #1 premium Korean oxygen based skincare line. They say that it's backed by science and used and recommended by dermatologists and aesthetic clinics worldwide. *
2. from plants Oh My Glow facial oil – This is my second favorite 2020 beauty discovery! And to be honest, it probably ties with the caviar cream… why? THE SMELL. OH MY G-LOW, THE SMELL. Maybe it's the peppermint oil that smells so delicious? It's there as an anti-inflammatory and controls oil production. It also includes rose hip, lavender, and pumpkin seed oil to boost collagen production and reduce inflammation. The apricot kernel oil helps to moisturize while slowing down signs of aging. You can use Oh My Glow as a moisturizer, foundation base, face mask – just add a few drops to whatever face mask you're applying to your face, even hair oil! This is a must have if you enjoy facial oils or like to keep your face moisturized throughout the day. The brand is vegan, cruelty free, and they come from Arizona – where I'm from! But that's not all… for every order placed, they plant a tree where reforestation is most needed! *
3. Honest Beauty Calm On Foaming Cream Cleanser – Again, no stranger to To Di For. Honest Beauty is one of my favorite beauty brands and has been since 2017. Their thick creamy formula for the Calm On Foaming Cleanser is gentle enough for sensitive skin but tough enough to wipe out all of your makeup! I've always preferred a foam wash but was delighted to realize that it originates as a cream base before you start to scrub your face. There's no scent and the brand is always cruelty free and does not test on animals! *
4. Onekind Pore-fectionist Refining Facial – This is a fun one! Onekind products are made right here in Los Angeles. I love the texture, the color, and surprisingly… the smell of this mask! On their site it says the product is free of "synthetic fragrance" but whatever it smells like is heavenly to me! Beeswax is the only non plant-based ingredient but their key ingredients include pink kaolin and bentonite clays to detoxify congested skin without feeling tight or dry, salicylic acid (willow bark extract) and lactic acid to smooth and brighten dull skin, and barley seed extract which helps to reduce redness or irritation. You apply the clay facial twice a week to (clean) skin and then rinse after 10 minutes. Your skin looks and feels fantastic! Thank you to Onekind for never testing on animals. We love you! *
5. OLAPLEX No3 Hair Perfector – This is a a pre-shampoo treatment that strengthens hair and reduces breakage but I don't use it before I use my shampoo because I don't understand the science behind applying something to your hair and then washing it out with shampoo, so I apply it after I apply both my shampoo and conditioner. I'm a rebel. It works as a mask that you leave on your hair for 10 minutes – then wash out – and I have to tell you that when you use it regularly, it improves the softness and strength of your hair immensely. If your hair is dyed, bleached, or regularly straightened this product is a life saver.
6. MZ SKIN by Dr. Maryam Zamani Hydra-Bright Golden Eye Treatment Mask – Am I obsessed with these eye masks because they're gold and bougie? It's a legitimate concern. The masks contain nano gold particles "for better penetration to add radiance and luminosity." I have no idea what that means. What I do know is that I like to stick them in the refrigerator before I put them on my face for a momentary thrill! I can testify that they DO diminish the appearance of puffiness instantly. I love to slap them on before I have an on-camera interview. Especially if it's early in the morning. They leave your skin hydrated and soft!
7. Nick Chavez Velvet Mesquite Recovery Hair Masque – This is a killer hair conditioner that nourishes, strengthens, and replenishes damaged hair. It also boosts your hair's natural shine! If you're addicted to your blow dryer or flat iron, use this conditioner to prevent future damage and breakage. Nick Chavez is my friend and I love him dearly! This product is formulated with his signature ingredient, Velvet Mesquite, providing the ultimate moisture and hydration! He was not thrilled with me when I bleached my hair recently but he was quick to offer a solution. You can watch Nick on QVC or follow him on Instagram for great prices and sales.
8. REN & Now To Sleep Pillow Spray – Snuggling into bed is always a better and more comforting experience after a squirt or two of REN's & Now To Sleep Pillow Spray. My Mom gave me this product and I can't imagine life without it! The yummy mist features a blend of natural oils "known for their sleep-enhancing properties." Frankincense, hops and lavender helps you to relax improving your quality of sleep and relaxation. Sweet dreams are made of mist.
9. Dionis Goat Milk Skincare – This is my favorite hand lotion. "LOVE" being my favorite scent! According to the description, the smell is jasmine, vanilla and black currant. The lotion itself is creamy – not greasy, the smell is perfection, and it offers long lasting hydration. I also like to get them in travel size so I can keep a tube or two in my purse. If you're curious about the goat milk, because I was, their website explains, "Goat Milk is naturally enriched with high amounts of protein, fat, iron, Vitamin A, B6, B12, C, D, E and many more. It will nourish your skin while keeping you moisturized." Dionis is cruelty free and made in the USA.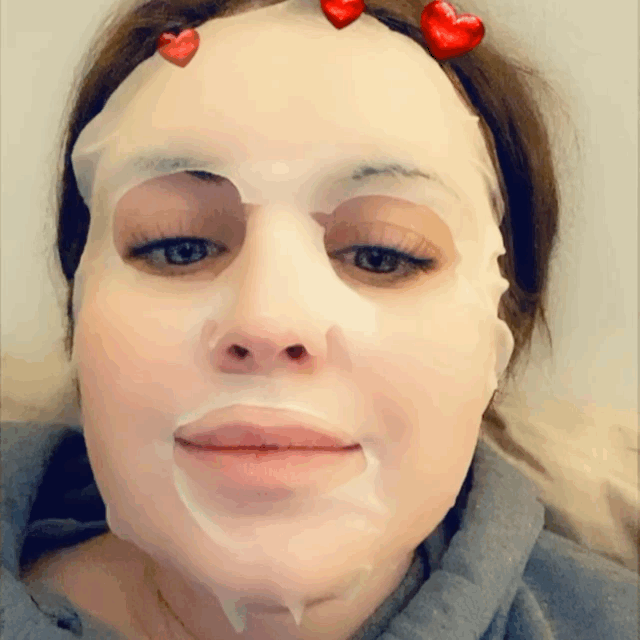 10. OxygenCeuticals AG Mask – I know, ANOTHER OxygenCeuticals shoutout… but these masks are pretty great! This is their age defying mask with caviar extract. You apply the mask to your clean face and leave it on for about 20 minutes. The mask is super thin but soaked with their formula. It's comfortably cut so you can drink a beverage or have a conversation while you're wearing it. You receive six masks per box so I apply a mask once a week while utilizing OxygenCeuticals' additional anti-aging caviar products daily. *
11. Swept Away Scents candles – One of my ultimate self-care hacks? A candle and a good book! That's why I love Swept Away Scents. Swept Away Scents was founded by my friend Kelly Potts and she creates every candle HERSELF with 100% soy wax and the highest quality fragrance oils. Kelly says, "Swept Away Scents was born to encourage those near and far to find themselves swept away to life's precious memories." Or books! For me! In 2020!
This is 11 ways that I self-care. I hope that you enjoyed this article! Happy Holidays!
Kinsey Schofield is the Founder of To Di For Daily and you can follow her on Twitter, Instagram, or Facebook.