To Di For Daily's Kinsey Schofield talks to author Andrew Morton about his latest book, Elizabeth & Margaret: The Intimate World of the Windsor Sisters. Andrew explains the difficulties of becoming a princess and why Princess Margaret might have really distanced herself from Peter Townsend. We discuss who could play Andrew Morton in Netflix's The Crown and if he misses Princess Diana. The woman that changed his life forever.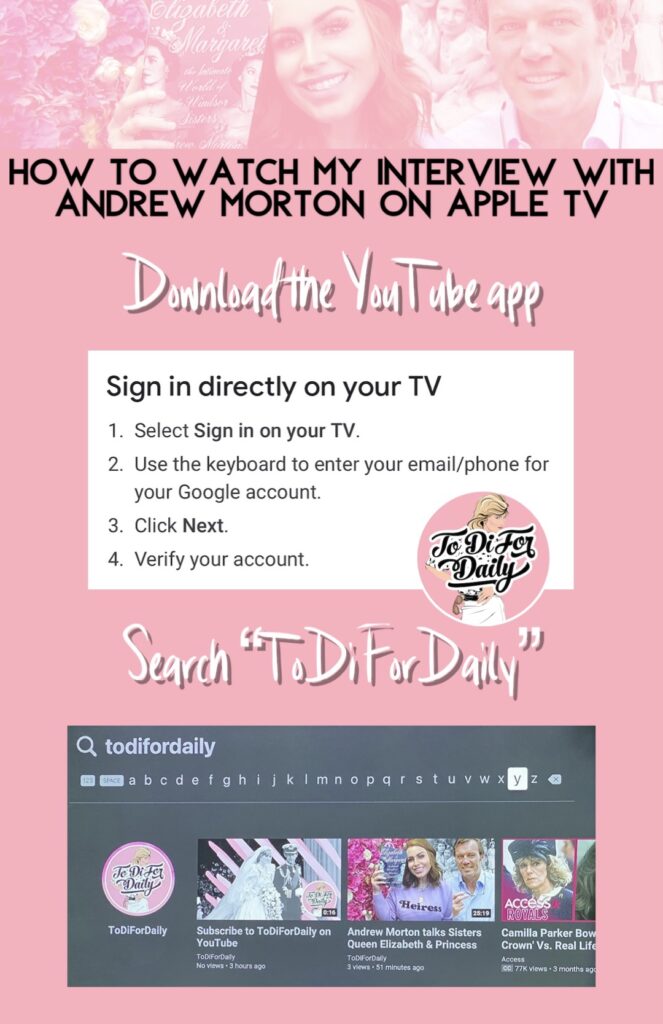 I can't tell you how special it was to me to get the opportunity to speak to Andrew Morton. I have read his books and seen his face on television pre-puberty. Not to age myself. I completely understand why Princess Diana trusted Mr. Morton with her thoughts and her truth. He is not only someone that I consider an authority on all things royal, he's sincerely passionate about the subject. I would have honestly talked to him all day. I had a million questions formulating but it was the day before his book was to be released and I knew he was busy! He was so friendly and kind.
When Morton's Diana: Her True Story was released in 1992, it was the most salacious royal-related scandal since the 1936 abdication. Commentators wondered if allegations throughout the book could end the monarchy. How would they recover? Meanwhile, Andrew had to go on every morning show defending his narrative and denying that Princess Diana had any association with the book.
It wasn't until after her death that he revealed the fascinating way that they secretly coordinated hours of interviews.
Since that life-changing publication, Mr. Morton has released WILLIAM & CATHERINE: Their Story, Meghan: A Hollywood Princess, Wallis in Love: The Untold Life of the Duchess of Windsor, 17 Carnations: The Royals, the Nazis and the Biggest Cover-Up in History, and most recently, Elizabeth & Margaret: The Intimate World of the Windsor Sisters.
Elizabeth & Margaret paints the most enchanting picture of Queen Elizabeth and Princess Margaret's childhood. They were deeply loved by their parents and were absolutely crazy about each other. If you enjoyed seasons one and two of The Crown, Elizabeth & Margaret is a must-read. Especially if you were fascinated about the Margaret, Peter Townsend storyline. WOW!
Elizabeth & Margaret: The Intimate World of the Windsor Sisters is available wherever you buy books.
Watch my interview with Andrew Morton below.
Kinsey Schofield is the Founder of To Di For Daily and you can follow her on Twitter, Instagram, or Facebook.