Happy Holidays! If you've found your way here, you're likely a fan of the British royal family. Welcome to the club! We're a pretty passionate bunch so a Christmas gift with a royal twist is always a safe option when shopping for a fellow monarchist. I have included a few books here but I've decided to dedicate an entirely separate post to royal books since we were spoiled with so many of them this year.
Referencing the image above… I call it the Diana list… although the corgi slippers primarily represent the Queen… (I needed a spot to share both pairs! See black pair below.)
Let's begin with Susan Shaw's brand-new Princess Diana Collection. BRAND NEW!!! Pieces range from $94 to $300 and are inspired by some of Diana's favorite personal pieces of jewelry… even similar to some of Diana's pieces that Catherine or Meghan wear today. The six original necklaces feature a beautiful gold coin with a silhouette of Princess Diana. Some feature pearls… some chains are long, skinny, and sleek! You can shop the collection here.
Last year I featured Di's black sheep sweater in red… this year we found a precious pink one for our Edie girl. This sweater doesn't feature the infamous black sheep but that's ok because Edie is an angel. Cost is $30 but you can save 10% by sharing your e-mail. Shop here.
I bought this Wine Bottle Carrying Clutch Bag for my GRANDMOTHER for Christmas and she thought it was a hoot. Yes, I know Diana wasn't much of a drinker but she did have a great sense of humor and would totally consider gifting something so naughty to a friend. I found this at Neiman Marcus for $40. It comes in multiple colors. My grandma takes the gold one to church.
How cute is our Lulu Guinness Collectable Lulu Phone Booth Charm? This keychain is so chic for the Anglophile in your life. The keyring is $165 but Lulu offers discounts for new customers and I anticipate holiday deals on the horizon. Shop it here.
Sperry and Warm & Wonderful have teamed up to create the black sheep sneakers! They come in all of your favorite Warm & Wonderful colors: Diana Red, Original Green, Bowie Blue, and Primrose Hill Pink. Cost is $94.95 but new customers will find a 20% coupon on the website. Grab a pair today.
K PALM FINE ART has the CUTEST little Princess Diana and Queen Elizabeth II prints in 4×4 acrylic frames. I wish I would have remembered to include the Queen's too! It is so sweet. I'll link it HERE. Cost is $60 and totally worth the fabulous fun it adds to any tabletop.
Be your own princess with a headband from Lelet NY. The Swarovski crystal 14-karat gold plated "crown" will cost you around $250 but they give new customers a 15% discount. Shop here.
These precious pink corgi slippers are by Laines London and can be found at Wolf and Badger! Aren't the so adorable?! They are $65 and come in multiple colors and styles. We share the black pair, double ornament with a crown below. Shop these slippers before they're gone!
We've shared this sweater on the blog before but just can't get over the cuteness overload. Inspired by Diana's Warm and Wonderful black sheep sweater, notjust created a reindeer sweater that will have you whistling Rudolph the Red-Nosed Reindeer all the way into 2023. Cost is $37.99. The best part? 50% of the profits from every sale are donated to charities in the UK tackling climate change and mental health.
I just love this Princess Diana soft enamel pin from Etsy store owner TheLuckyBengal. From the eye roll… to the tiara… and that classic smirk. It's such a fun reflection of our favorite princess. Shop it for $8!
Isn't our teeny tiny Solid Gold Teal Sapphire and Diamond Fleurette Ring by La Kaiser such a unique take on Diana and Catherine's engagement ring? It's small and chic. The complete opposite of Diana's! But the perfect subtle nod to the princesses of Wales. Cost is $340. Shop here.
R is for Revenge Dress is my little tribute to Princess Diana. Cost is $18.99.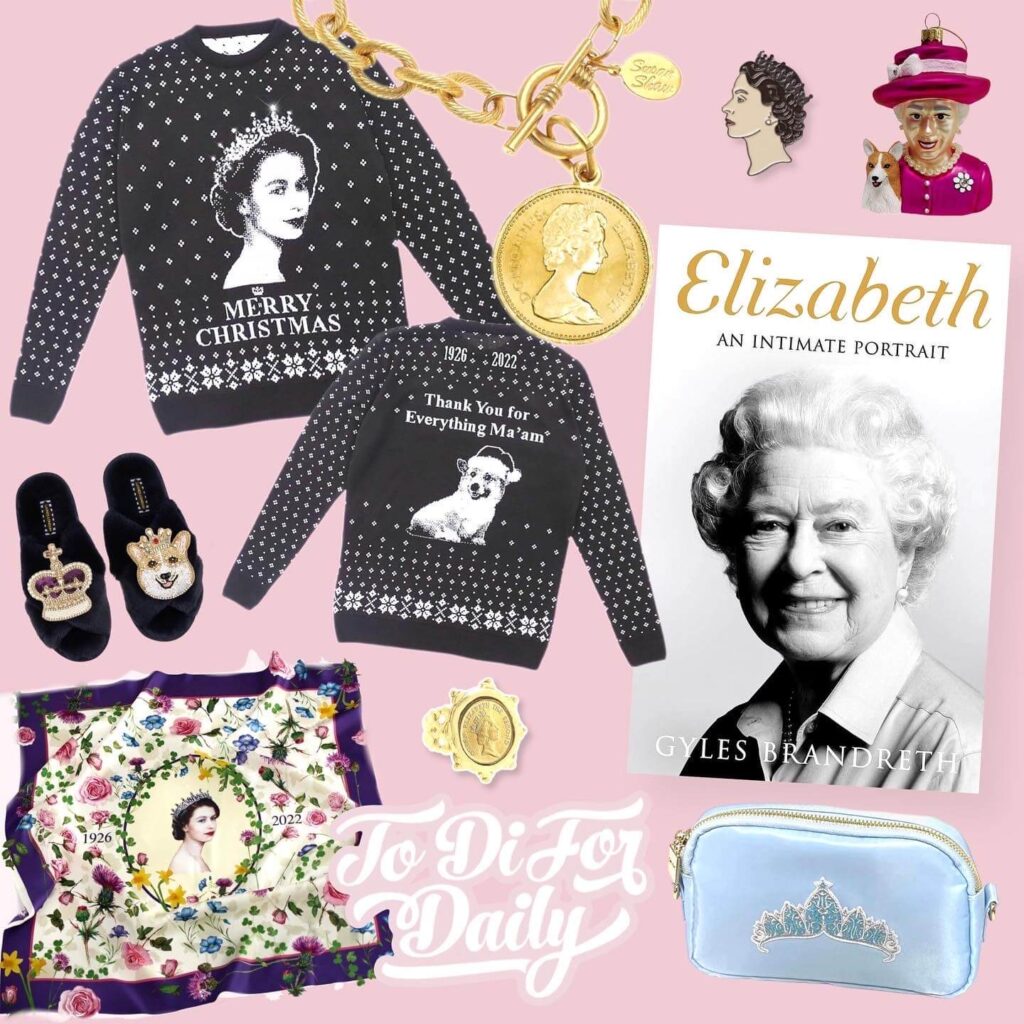 notjust, our reindeer friends, created a beautiful tribute to the Queen for the 2022 holiday season. This black jumper features a stunning photo of the young Queen Elizabeth on the front with the font reading "Merry Christmas." The back of the sweater stars an adorable corgi wearing a Santa hat saying, "Thank you for everything Ma'am." Did your heart just explode too? Don't forget, notjust clothing is ethical, sustainable, and 50% of the profits from every sale are donated to charities in the UK tackling climate change and mental health.
Susan Shaw jewelry is back with their Crown Collection. This collection is a bit larger than the Diana collection and expands beyond necklaces to bracelets, earrings, and the most beautiful ring that features Queen Elizabeth II. Choose between 15 options that feature Susan Shaw's sophisticated Queen's coin. Can you pick a favorite piece? It's the hardest decision you will make that day! Each piece is handmade just for you in the great state of Texas. Shop now.
Thanks to Wolf and Badger for introducing us to our new favorite slippers! These corgi slippers come in black and also include a crown! Made by Laines London, they are a bit pricer at $82. The description reads, "Our artisan brooches are beautifully handmade with crystal, pearls and beads, each brooch is designed by our in house team and bought to life by our creative team." Know someone that needs a pair? Here's your link.
While you're there, take a look at this stunning floral Queen Elizabeth scarf. Designed by PJ Studio Accessories, this silk scarf is a deeply meaningful piece. "The flowers depicted are the Rose of England, the Thistle of Scotland ,the Daffodil of Wales, and the Shamrock of Northern Ireland. The blue Cornflower represents remembrance." It would even look beautiful in a frame. Shop now.
Gyles Brandreth has the whole world talking about his new book, Elizabeth – An Intimate Portrait. Gyles was a dear friend to Prince Philip and has spent 50 years around the royal family. He respectfully shares fascinating details about the most famous female leader of our time. His writing style is unique and comforting. His stories: witty and full of joy. Elizabeth – An Intimate Portrait is a must have addition to your royal library.
That little blue bag with the tiara comes from Bloc Bags' new Princess Collection. I love Bloc Bags because for every bag purchased from Bloc Bags, they donate one toiletry bag to a child in foster care. So far, they have donated over 2,000 toiletry bags to foster kids in 8 states. Purchase this Bloc Bag for $42 and gift a foster kid their very own bag too.
Isn't this Christmas ornament of Queen Elizabeth and her corgi the best? Her personality just bursts right through. I adore the hot pink hat, the pearls, and her fur baby. At just $24, it is titled, "Women We Admire Ornament – Queen Elizabeth." The description features this beautiful quote from QEII: "When life seems hard, the courageous do not lie down and accept defeat; instead they are all the more determined to struggle for a better future." What a wonderful way to remember our Queen. I think we definitely need this Christmas ornament, don't you?! Shop it!
Another fun enamel pin but this time it's Her Majesty the Queen. I want to curtsy just looking at it! Add a pop of pomp to your favorite jacket or handbag for just $10.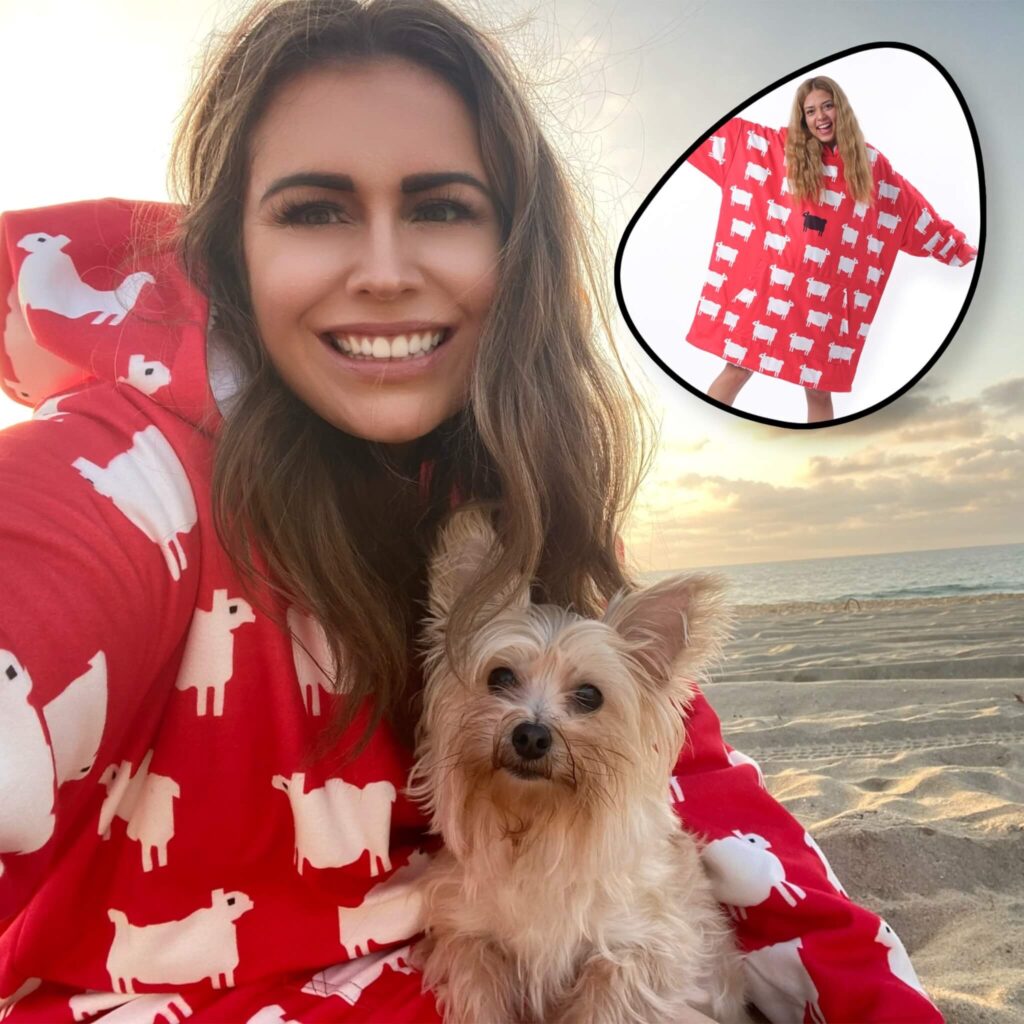 Check out this HOODIE BLANKET combo from P.W. Union! Obviously (also) inspired by our friends at Warm and Wonderful, this blanket hoodie is oversized, fuzzy, all consuming happiness. This ultimate lounge piece is currently on sale for $75 and if you fall in love with it… just wait until you see their HARRY STYLES and TAYLOR SWIFT collections. I don't know if I'll ever wear pants again. It's hoodie blanket life for me. Shop the black sheep hoodie blanket today. (And yes, I know Bigly needs a haircut but he's a demon when I try to cut his hair.)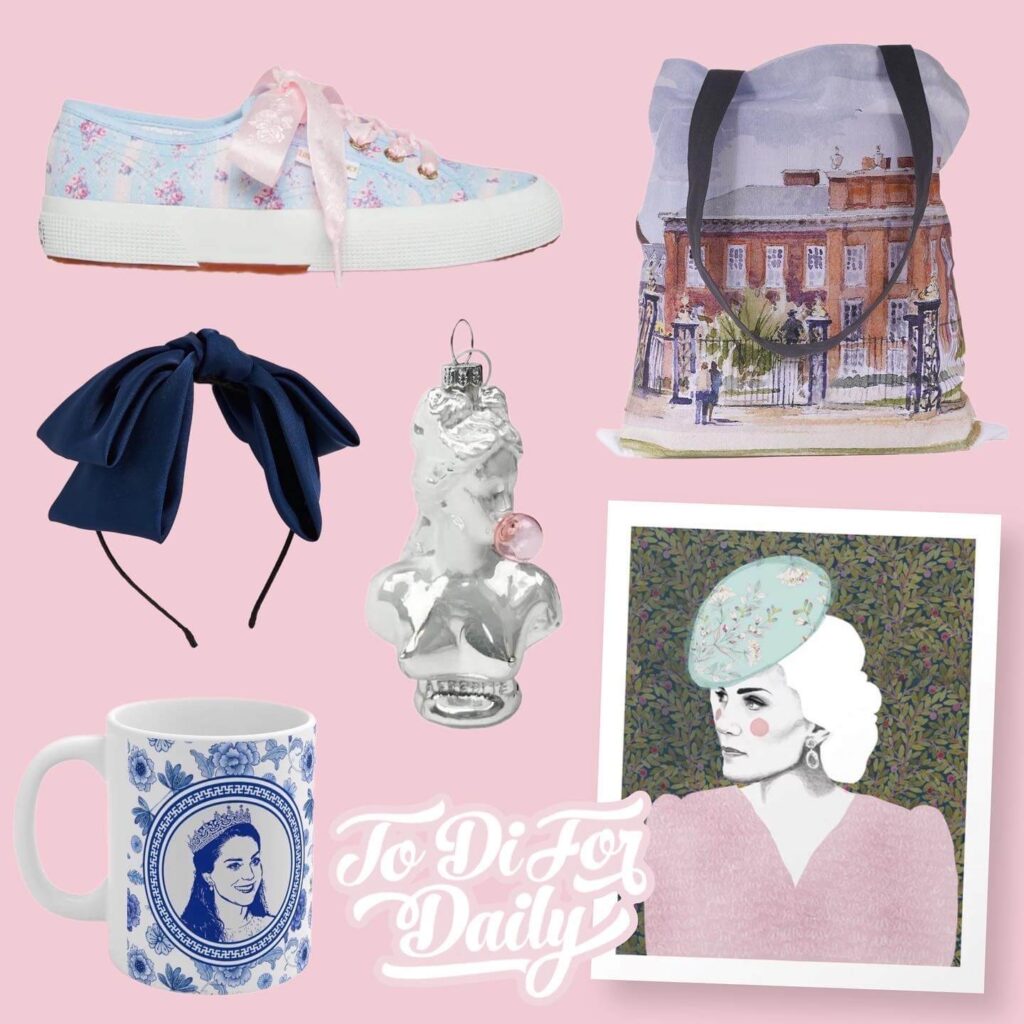 The Princess of Wales! One of our favorite girls in the world. How can you not ADD TO CART this classy and sassy Kate coffee mug from ApolloElevenDesigns on Etsy?! The size is 11oz, the material is ceramic, and the seller has stellar reviews throughout the site. Get your caffeine fix with Catherine! This item is $13.05 plus shipping.
Oh, bow you didn't! Catherine is known for her fab hair and hair accessories. Free People's Bianca Bow Headband comes in multiple colors but beautiful blues will always reminds us of the Cambridge family. The oversized bow is currently $28 and is ready to belong to the Kate Middleton fan in your life. Merry Christmas!
This design is probably a little too camp for Kate but she has always been a fan of Superga sneakers. Yes. I own a white pair. Specifically because SHE owns a white pair. Loving the Laura Ashley vibes this pastel design gives off though. They're a bit pricey at $139 but how can you resist a shoe that makes you feel like a real life princess?
Want to keep your gift under $50? Check out the Kensington Palace watercolour tote bag. Priced at $22, this piece comes directly from Historic Royal Palaces! The art is by David Brunwin and is exclusive to HRP. Kensington Palace is one of my favorite places in the world. It is the birthplace of Queen Victoria but now probably most famous for being the home of Princess Diana, Prince William, and Prince Harry.
Keeping with the under $50 theme, this bubble blowing statue Christmas ornament is a steal at $20! A Cody Foster & Co. design, this is such a fun addition to your Christmas tree! One for you, one for me. We have the prettiest Christmas trees!
This very cool print of the Princess of Wales comes in 4 different sizes. Pricing is beyond affordable between $7.50 – $27.00. It's by Emily Shay Art who has set up her shop on Society6. How fun is Kate's white hair, funky hat, and rosy cheeks? Just fantastic.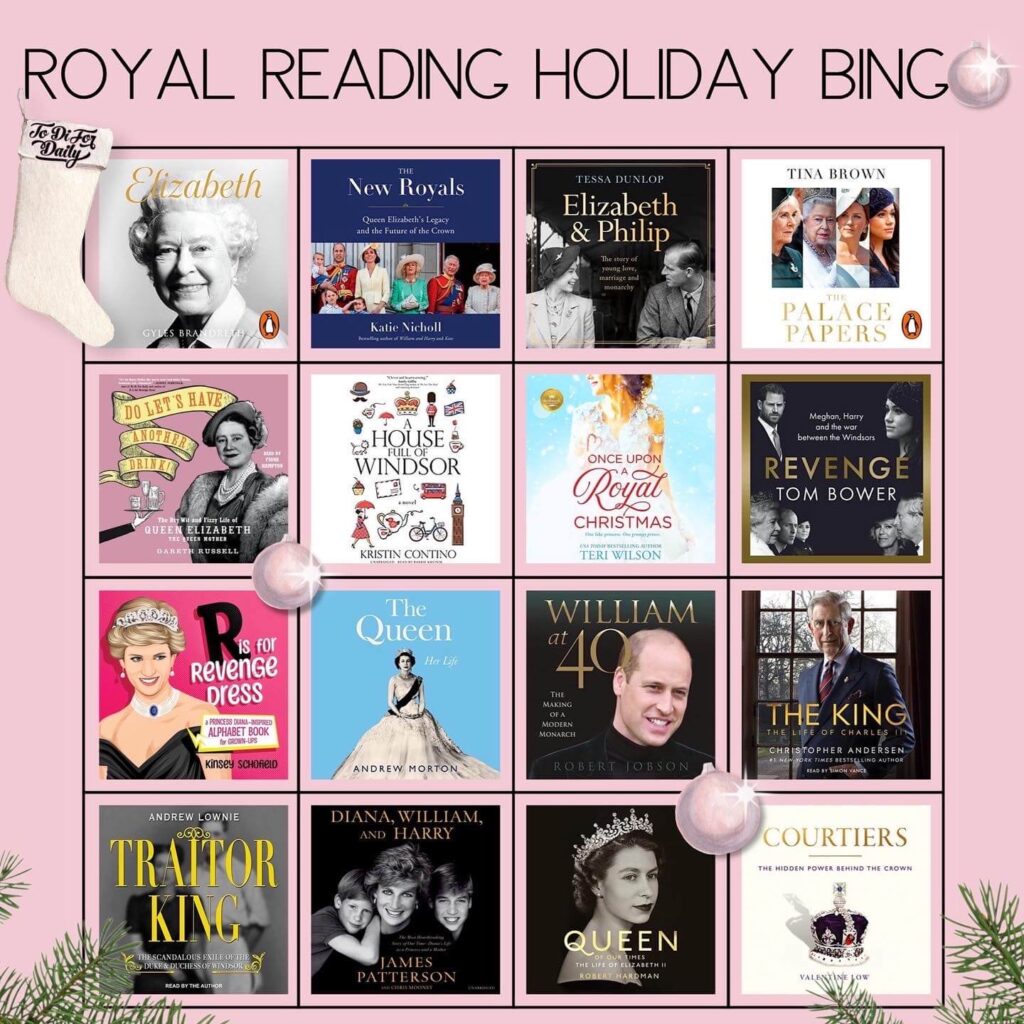 I will go over each one of these books in my next post! Time for bed. Happy Holidays!
Kinsey Schofield is the host of the To Di For Daily podcast and the creator of ToDiForDaily.com. You can follow her on Twitter, Instagram, or Facebook.