Fever and SBX have collaborated with celebrated royal photographers Anwar Hussein and his sons Zak and Samir to debut their collection of original images of the Princess of Wales through an in-person Princess Diana experience. Fever says, "The Husseins collectively spent four decades working side by side with the iconic Princess and her family and will reveal what they witnessed first-hand, both in public and private moments." Listen to "never-before-told stories" while admiring one of the most photographed women in the world.
We got a sneak peek at the Princess Diana Accredited Access Exhibition yesterday and had a blast. The larger-than-life portraits of Diana are joyous and the stories are fascinating and fun. You will leave the venue feeling closer to Diana than ever before.
The digitally guided tour can take you between 60-90 minutes to complete depending on your own personal pace. There are eight themed rooms or sections within the exhibit. Stroll through Growing, Glam, Hats & Tiaras, Art Installations, Working Royals, Humanitarian, Unguarded, and The Photography Dark Room. Each themed space will include floor-to-ceiling photography and art.
Here are some of our favorite snaps featured throughout LA's Princess Diana Accredited Access Exhibition…
1. This choice will be of no surprise to you! Anwar Hussein took this photo of Princess Diana in August of 1983 at a polo match in Cirencester. By '83 Diana was already the most fashionable force in the royal family, turning heads on the polo field in a bold, cap-sleeve, black and white polka dot top. The way that Anwar captures Diana's windblown hair makes the princess look down to earth while still maintaining her grace and sophistication.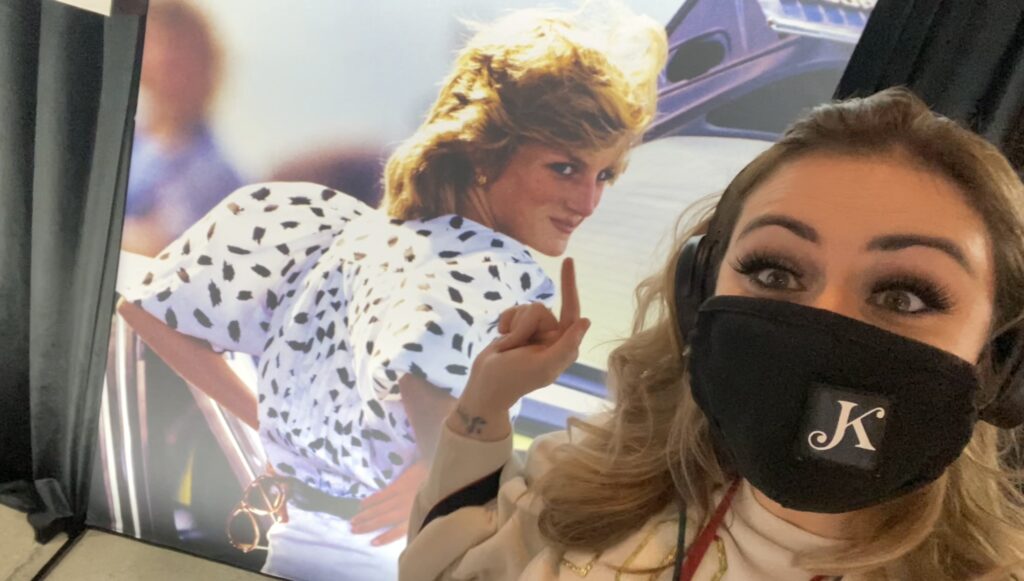 2. I am a firm believer that Prince Charles and Princess Diana loved each other which is why I adore this photo taken on June 30th, 1985… on a… you guessed it. Polo field. The way he is holding on to her and the look in her eyes is so beautiful. The lovey-dovey interaction doesn't quite match the timeline Diana has given us for when the marriage started to fall apart (immediately post Harry) but who cares? I love this photo. This photo says love.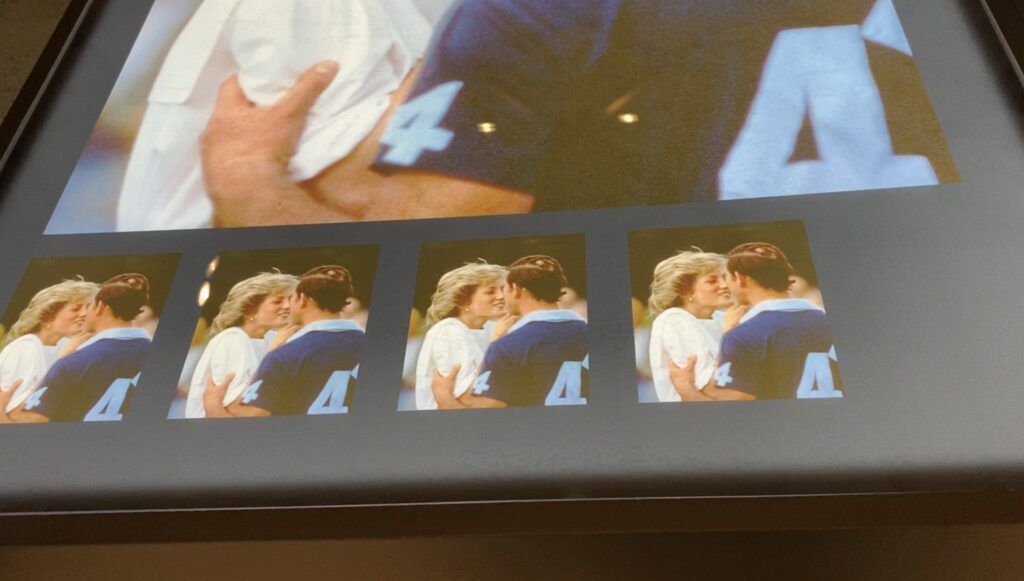 3. I don't know if it's the Kanye shades or the burst of giggles… maybe even the fabulous green top! This photo of Princess Diana taken by Anwar Hussein happens to be one of my all-time favorite photos. It is photos like this that give you a sense of what being a reporter covering the royal family was like… intimate, spirited, exciting… before Diana dropped her royal protection and things turned chaotic. Anwar took this photo at the Australian Bicentenary celebrations at Sydney Harbour, on January 26, 1988, in Sydney, Australia.
PS: The picture to the left is one of my favorite photos of Prince Harry and Meghan Markle shot by Anwar's son, Samir Hussein.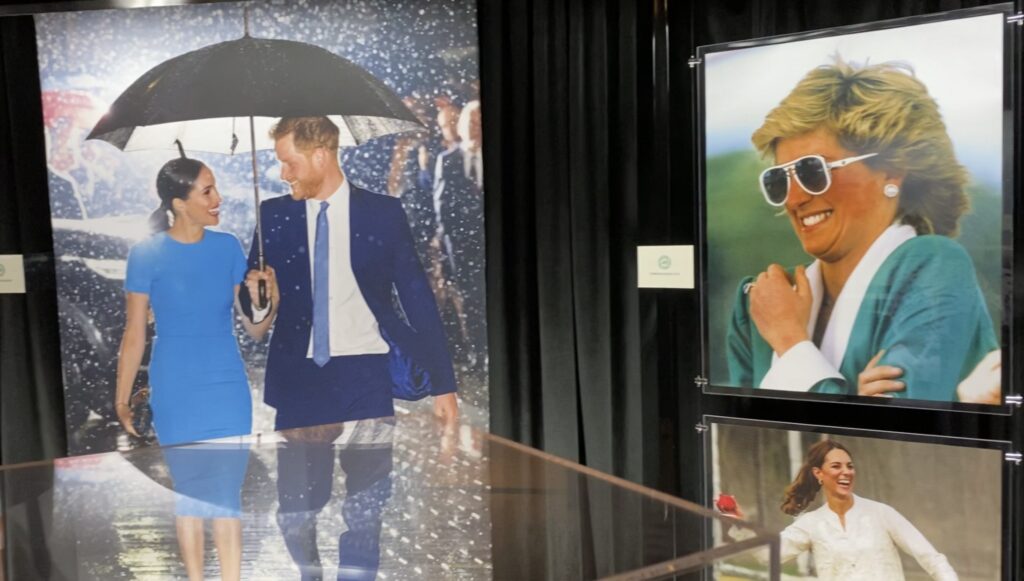 4. Just the cutest. I've always loved this photo of Princess Diana greeting a Maori man with a traditional Hongi during a walkabout in Wellington, New Zealand, in 1983. Anwar effortlessly captures her innocence.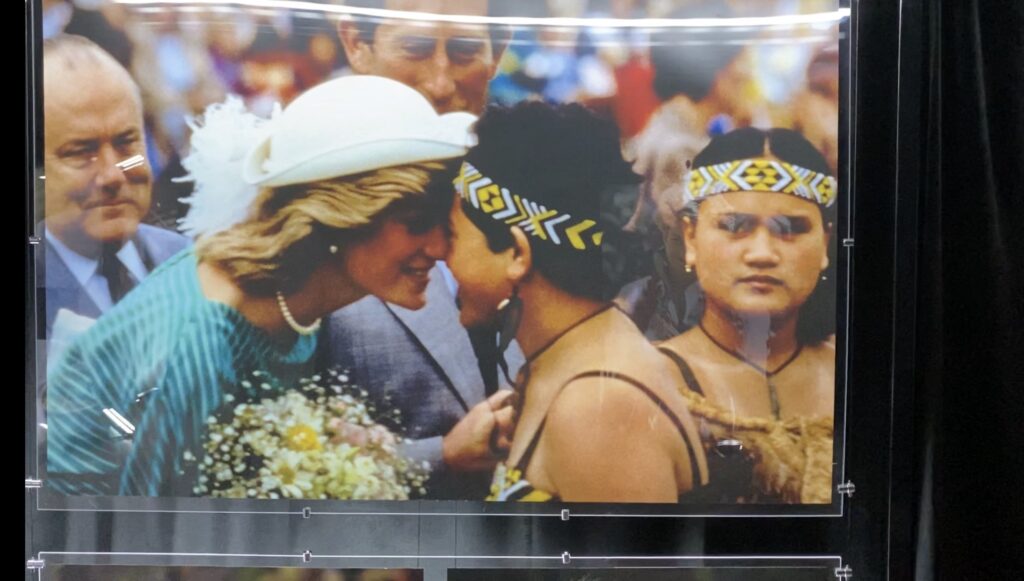 5. Maybe the most famous photo of Anwar's career? You know what we're talking about. The revenge dress. How can you have an exhibition of Princess Diana photos without including the iconic LBD? You just can't. My favorite part was how Diana's photo towers over you so you are overwhelmed by how stunning she looked that evening! Anwar took the picture at a Vanity Fair party at the Serpentine Gallery on November 20, 1994, in London. The same night Charles decided to do a television tell-all where he admitted to his affair with Camilla and said he would refuse to give her up. No one cared about Charles' big reveal after Diana debuted the notorious "revenge dress."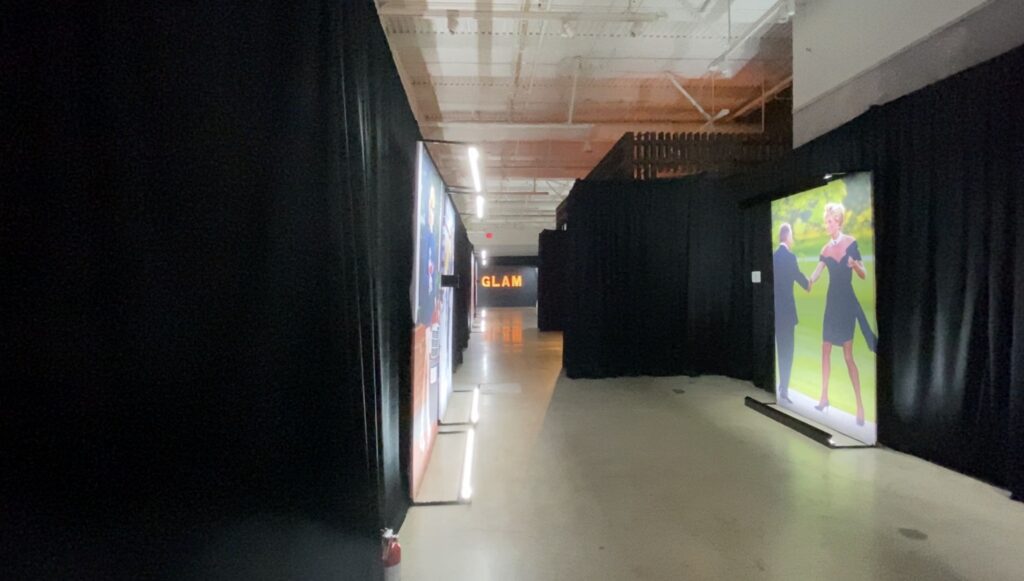 The Princess Diana Accredited Access Exhibition is located at Santa Monica Place, 315 Colorado Ave, Santa Monica, CA 90401 in Los Angeles. The space opened TODAY and is expected to be there 4-6 months. Tickets start at $24. Get your tickets now!
The Princess Diana Accredited Access Exhibition hours:
Monday: Closed
Tuesday: Closed
Wednesday: 11am – 7pm
Thursday: 11am – 7pm
Friday: 11am – 8pm
Saturday: 11am – 8pm
Sunday: 11am – 7pm
Kinsey Schofield is the Founder of To Di For Daily and you can follow her on Twitter, Instagram, or Facebook.